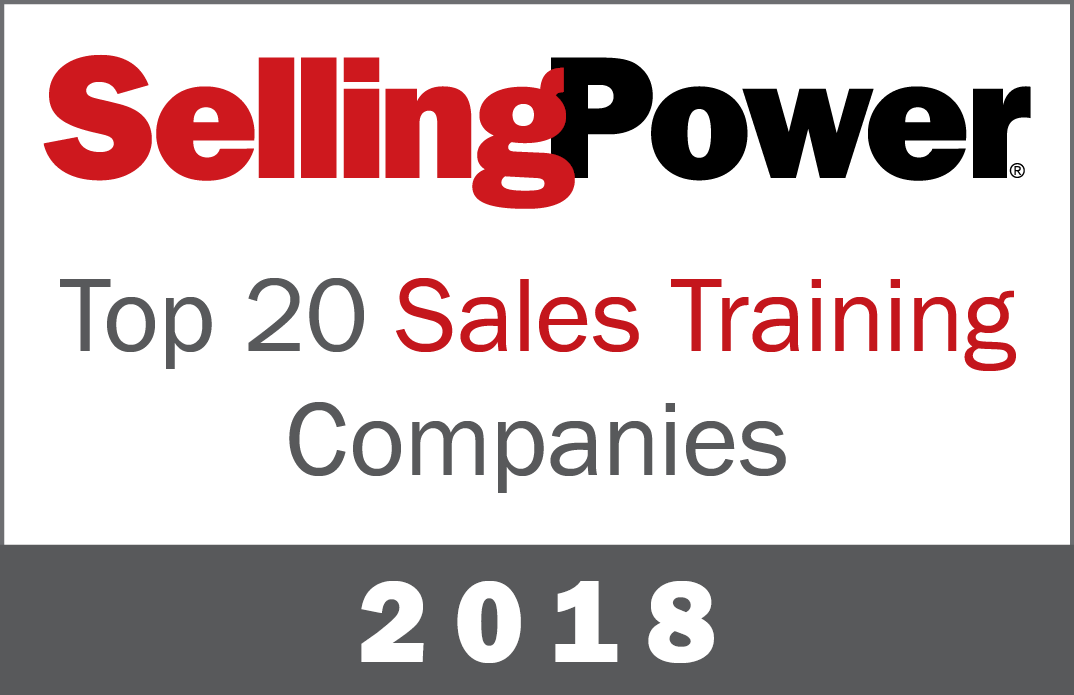 Selling Power is pleased to announce our 2018 listing of the Top 20 Sales Training Companies. Each company on the list submitted a comprehensive application that included a detailed overview of their offerings for both sales training and retention, innovative solutions or services they have recently launched, and their company's unique contributions to the sales training marketplace. Additionally, they had at least four client companies submit a brief survey on their experience working with the training provider and their satisfaction with the results from the training effort and likelihood they would work with that specific training provider in the future.
The four main criteria used when comparing applicants and selecting the companies to include on this year's list were:
Depth and breadth of training offered
Innovative offerings (specific training courses or methodology) or delivery methods
Contributions to the sales-training market
Strength of client satisfaction
The summaries below provide a snapshot of each company's major offerings. We encourage you to visit their Websites and learn more. Based on the applications and customer feedback, the selection committee believes each company included on Selling Power's 2018 Top 20 Sales Training Companies list has the potential to help your sales team achieve significantly better results – not just for your team and your company's bottom line, but also for your customers.
Note: This list is organized in alphabetical order and no priority or ranking is implied.
Selling Power's Top 20 Sales Training Companies — 2018
The Sales Board is a leading provider of sales training products for sales forces and customer contact teams (customer service, technical support, etc.). Sales forces are trained with our Action Selling product line. Customer Contact groups are trained with our Customer Relationship Professional (CRP) product line. Our primary mission is to help companies achieve revenue goals through dramatic improvements in sales culture. The best way to create a highly productive sales culture is to align all customer contact employees with a common and effective customer-communications method. Unless all customer contact employees have shared customer-communications behaviors, a culture gap exists that ultimately damages sales productivity.

www.actionselling.com

| 800-232-3485

We change the way sales organizations sell. For those who desire to change the way they find, convert, and grow clients, we do this by attacking the single largest miss in selling today – addressing the fact that decision makers are more emotionally closed to being sold by salespeople now more than any other time in history. And not to be overshadowed is that the appetite of next-generation sales professionals is equally emotionally closed to selling in traditional frameworks. Our field, inside, contact center, and coaching solutions are all built on a proprietary foundational platform designed to help organizations reframe their approach to selling, train their unique sellers, certify their leaders, and transform their selling culture.

www.aslantraining.com

| 770-690-9616

Founded in 1977, The Brooks Group is an award-winning B2B sales training company focused on providing clients with practical, straightforward solutions to improve and maintain overall sales effectiveness. Comprehensive sales assessments are used to optimize sales hiring, and sales and sales management training programs are customized to meet an organization's specific needs. The Brooks Group's coaching methodology ties together live coaching by an SME, peer accountability, gamification, management participation, and on-the-job application of concepts to guarantee learners have the tools needed to apply concepts quickly and permanently to get stakeholders the results they're seeking.

www.brooksgroup.com

| 800-633-7762

BTS is a global professional services firm headquartered in Stockholm, Sweden, with some 600 professionals in 33 offices located on six continents. We focus on the people side of strategy – working with leaders at all levels to help them make better decisions, convert those decisions to actions, and deliver results. The BTS Sales Practice enables organizations to hone their results-focused selling, account strategy development, sales management execution, communication of value, customer understanding, and negotiation skills by creating engaging experiences that allow your team to learn and test drive new behaviors in realistic, risk-free environments. All initiatives are based on how your best people sell, our work with world-class organizations, and our research with executive buyers and sales forces.

www.bts.com

| 512-474-1416

For more than 40 years, Carew International has cultivated its reputation as a top-tier provider of customized sales training programs that deliver dramatic and lasting performance improvement. Carew takes a holistic approach to sales excellence by addressing the skills, processes, and attitudes necessary to cultivate productive, long-term customer relationships and develop sales professionals who are able to achieve greater influence and partner with customers as valued assets. Our team specializes in the development and delivery of high-impact sales training, leadership training, social selling, inside sales, and customer service training. While our clients are quite diverse, we take great pride in the consistency of the impact, value, and ROI we provide every client organization.

www.carew.com

| 800-227-3977

DoubleDigit Sales designs and delivers practical sales training solutions that unlock individual performance and produce sustainable business results. We partner with organizations to understand their unique business challenges, design tailored solutions to meet their specific needs, and create impactful learning experiences that change mindsets and produce lasting results. What makes us different? 1) Practical and simple solutions; 2) a streamlined design process; 3) facilitation mastery; 4) a robust and growing library of modules; 5) a flexible approach and methodologies; and 6) a focus on embedding behaviors – our coaching methodologies and robust sustainment and reinforcement tools help ensure adoption of new behaviors and change.

www.doubledigit-sales.com

| 855-656-2999

Imparta improves its clients' business performance in the areas of sales, service, and sales through service using highly practical and researched approaches and an integrated solution that goes well beyond simple training interventions. Imparta's Capability Building® System combines assessment, training, coaching, application tools, and impact measurement – using leading-edge technologies to create sustainable performance improvement.

With offices across Europe, the United States, and Australia, Imparta has the capability to deliver face-to-face programs in multiple languages with local knowledge and experience. Imparta is also a leading provider of blended learning and a pioneer in the field of business simulations. This expertise has been distilled into the Virtual Sales Academy®. Imparta's global client base includes Intel, Cisco, Schindler, Telefónica, Lonza, and WPP.

www.imparta.com

| 818-414-7059

IMPAX is a global sales performance improvement company focused on helping market-leading B2B organizations accelerate success and drive growth. Working together, we help customers adopt a value-based, consultative approach to sales. IMPAX combines 30+ years' experience enhancing client success with a continuous drive to improve – earning us recognition as a leader in our space. We are differentiated by our intuitive process, focus on execution, global expertise, and significant client results. IMPAX is best known for training services that include sales and account management, process training, coaching, sales leadership development, skills programs, assessments, sales strategy and consulting services, and speaking/keynote engagements. Through partnership and comprehensive solutions, we leverage training to help customers effectively position their value – enabling growth, differentiation, and a higher level of partnership with their own customers.

www.impaxcorp.com

| 203-222-1900

Integrity Solutions helps clients win and keep customers by developing excellence in sales, service, and coaching. We go beyond skills training by bringing a salesperson's self-belief, confidence, and motivation into the equation – the attitudinal elements that are so often missing in sales training. Our approach provides information to the head and engages the heart. Integrity Solutions helps organizations align attitudes and beliefs around a customer-focused strategy so they can increase sales, strengthen customer relationships, maximize productivity, and retain the best talent. We embed our values- and ethics-based approach to sales and service and focus on rapport, relationship building, and trust as pillars to sales success.

www.integritysolutions.com

| 615-385-2246

At Janek Performance Group, we believe the life force of any company is its sales team – and that our role as a sales performance company is to help organizations unearth their sales team's potential. Each day, our instructional designers, trainers, and leading-edge sales training curricula move the needle forward on our clients' success and help them exceed results they'd previously deemed impossible. Our mantra is to never stop improving – and this sentiment is upheld through our commitment of providing research-based sales training programs that are continuously updated while new training programs, enablement tools, and training reinforcement solutions are developed, tested, and rolled out in the marketplace.

www.janek.com

| 800-979-0079

Kurlan & Associates is a full-service, global sales consultancy dedicated to sales performance improvement. We work with companies of all sizes – in more than 200 industries and on five continents – providing sales and sales management consulting, training and coaching, sales force evaluations, candidate assessments, as well as recruiting tools, services, and advice. Kurlan helps companies choose, customize, and integrate sales enablement tools and assists with sales architecture. As a results-first partner, we collaborate to provide solutions that solve real problems and deliver real results.

www.kurlanassociates.com

| 508-389-9350

Mercuri International has more than 50 years' experience in helping both companies and individuals improve their sales results. By using our unique combination of consulting and training expertise we have helped countless organizations around the world – and their people – become more efficient and effective in their sales activities and achieve the necessary improvement in results.

www.mercuri.net

| +44 1981 550 447

Miller Heiman Group is one of the largest professional services providers in the world and is transforming workforce training into a revenue-driving business initiative based on innovation and technology. Many of the largest and most respected brands work with Miller Heiman Group, which offers the broadest set of sales- and customer service-based solutions in the market. With more than 60 offices globally, Miller Heiman Group has the breadth and depth to help every organization sell more and service better.

www.millerheimangroup.com

| 877-678-3380

RAIN Group is a global sales training and performance improvement company that unleashes sales potential by delivering transformational experiences for its clients. For two decades, we've helped hundreds of thousands of professionals, managers, and sales leaders significantly increase their sales results. We help organizations:
• Develop and improve sales strategy, process, messaging, and talent
• Enhance sales capability through world-class sales education
• Design and execute strategic account management initiatives
• Increase effectiveness of sales management and coaching
Recognized as a world-leading sales method company, RAIN Group offers a full suite of sales training programs across key sales topics. All of our programs are research based with insights from the RAIN Group Center for Sales Research – and our learning system focuses on driving real behavior change and results.

www.raingroup.com

| 508-405-0438

Revenue Storm is a sales consulting firm employing the latest in neuro and behavioral science to improve sales success rates. Training is customized using a modular design and case studies. Psychometric testing of salespeople provides personalization in their development plans and the identification of organizational gaps for training focus. Virtual coaching after training is critical to boost immediate adoption. Revenue Storm training advances real sales pursuits in each workshop, including our groundbreaking fully virtual programs. Our consultants are seasoned, successful sales leaders who get into the trenches and provide practical methods to enable better results. Sales software provides real-time coaching insights based upon proven, proprietary science. This, along with our results tracking system, creates a disciplined approach to achieving measurable client results and ROI.

www.revenuestorm.com

| 224-659-7710

Richardson is a global sales training and performance improvement company. Our goal is to transform every buyer experience by empowering sellers with critical skills so they can create value for buyers and drive meaningful conversations. Our methodology combines a market-proven sales and coaching curriculum with an innovative and customizable approach to learning that ensures your sales teams learn, master, and apply those behaviors where and when it matters most – in front of your customers. It's our job to anticipate change in your industry so your sales team can focus on fostering long-term relationships and becoming indispensable partners for their buyers.

www.richardson.com

| 215-940-9255

SPI is a leading global sales performance training company focused on creating lasting behavior change in sales organizations through talent assessment, adaptive learning, and intelligent enablement and analytics technology. As proprietary owners of the world-proven Solution Selling curriculum, SPI enables its global clients to attain a buyer-aligned focus that fundamentally changes sales engagement and customer experience. Through the SPI-1 digital assessment, learning, and enablement platform, SPI helps sales organizations drive continual learning and talent development that delivers measurable business outcomes.

www.spisales.com

| 704-227-6500

Sales Readiness Group (SRG) is an industry-leading sales training company. Our mission is to help improve the performance of sales teams by providing customized, skills-based training programs that produce sustainable behavior change. Our solutions include comprehensive sales training, sales negotiation, sales coaching, and sales management programs.

www.salesreadinessgroup.com

| 800-490-0715

ValueSelling Associates is the creator of the ValueSelling Framework®, a proven formula for accelerating sales results. The ValueSelling sales methodology makes complex selling simple, increasing sales productivity, improving margins, and growing revenue for sales organizations globally. Sell on value, not price, with the ValueSelling Framework – it works.

www.valueselling.com

| 800-559-6419

Clients select Wilson Learning for our expertise in helping sales organizations increase win rates, grow revenue, and boost profits and market share. For 50+ years, we have equipped salespeople, leaders, sales enablement, and support professionals with the strategies, tools, and approaches to address these challenges. Our unique blend of proven content – combined with extensive consulting and customization services, coaching, advanced delivery technology, reinforcement, and implementation expertise – ensures sustainable and measurable results aligned to clients' priorities. We provide salespeople with processes and tools to advance their clients' and their own success. We equip sales managers with the skills and ability to coach and drive performance.

www.wilsonlearning.com/wlw/index/en-us

| 800-328-7937
Honorable Mentions — 2018
We are pleased to include 2 honorable mentions in this year's Top 20 listing:
Factor 8 is an award-winning sales and management training firm catering only to inside sales. Every workshop is designed for the daily challenges inside sales teams face – working books, getting hold of decision makers and keeping their attention, getting call-backs, and showing value over the phone. We're best known for putting reps on the phones and getting results during training. Every workshop is customized to help reps sell your services to your customers. It includes recorded calls and one-to-one coaching on messaging and delivery by a leader with 10-20 years of phone sales experience. Finally, every rep class has a corresponding manager course to help young leaders recognize new skills, coach their improvement, and keep them alive.

www.factor8.com

| 480-630-5318

Our mission is to coach, train, and consult with sales leaders and their teams to compete in a complex world. We do this by taking a diagnostic approach to understand your team and the gaps we can help you fill. To gain a deeper understanding of your team and your needs, we adhere to this process: Assess, Design, Train, and Coach. We start by assessing your team's competencies to determine strengths and weaknesses. Then we design a tailored playbook that defines an action plan to further develop your team and equip it with the desired skills for your marketplace. This leads into our tailored training solutions and ongoing coaching that provide a deeper understanding of the overall strategy in order to handle day-to-day situations.

www.tysongroup.com

| 800-659-1080
---