Sales leaders are under enormous pressure to hit targets. In recent years, targets have become more aggressive while markets remain uncertain and competition increases. Now is the time for sales leaders to take a step back and figure out if their teams are set up for success. But how do you best prepare your teams for success?
The five pillars of sales performance
The best place to start is to define what you are trying to accomplish. An organization has many types of targets, such as growth, sales, and revenue. Those targets are established by the leadership and then filtered down to the rest of the organization as action items. Once your organization determines its goals, then you can figure out how to make it happen. This means understanding and defining your addressable market, determining your sales strategy, creating a sales forecast, defining sales territories, establishing incentive and compensation plans, and determining the KPIs you will track to monitor performance.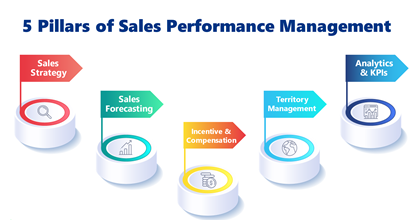 A big mistake many sales leaders often make when it comes to these five pillars is handling each one in a silo. However, to be successful each pillar must be mapped out in an integrated way that supports the overall strategy and targets defined by leadership.
One pillar often entirely overlooked by sales leaders is territory management. Your entire sales strategy for the year ahead could hinge on whether you have correctly set up territories. If you don't meet the challenges of territory planning, your sales team could be confused, inefficient, and not motivated to ensure targets are hit and your sales strategy is successful.
Reps need achievable sales targets
As a leader, you must ensure that you create balanced sales territories and quotas. It is demotivating for a sales rep to feel they have a sales territory that does not allow them to reach their quota. If they feel demotivated, the effectiveness of your entire sales organization suffers. You want to ensure your sales organization is aligned and motivated, which means setting up equitable territories, so all your sales reps feel they have an achievable target. Mapping your sales territories properly will ensure they support, not hinder, your sales strategy.
Your territory mapping may be causing an unnecessary sales turnover issue
Territory mapping is often one of the most overlooked pillars of sales performance. It is usually done quickly, by spreadsheet, without alignment to the overall sales strategy. This hasty process does not result in adequately weighted territories. Most sales organizations share a common pitfall that territories are heavily weighted for a handful of top reps, leaving 70-80% of reps with subpar territories. The reps with subpar territories do not perform well, so they end up leaving for a better opportunity at another organization. This leads to attrition issues; sales rep turnover has a huge impact on your organization because it causes your sales cycles to stop and start too frequently.
Unbalanced territories also hurt your top performers. Active sales cycles are often given to closers, which overburdens them and limits their ability to handle their territory effectively. Therefore, a fair and equitable distribution of sales territories from the beginning is critical as your sales territories have a direct impact on your ability to accurately predict revenue.
You need a system that gives you an integrated view of your sales data
Your sales strategy does not stand alone; it is intertwined with forecasting, territory mapping, incentives and compensation, and KPIs. If you, like many sales leaders, are managing data for each of these activities in separate spreadsheets or disparate systems then you are running your sales organization with a huge handicap. Siloed information will never provide an accurate representation of the effectiveness of your sales organization. Each pillar of sales performance is connected to the other, you need an integrated view that shows accurate and integrated data.
Identifying the source of a problem is often as hard as implementing the actual solution. Sales leaders are constantly overwhelmed with an abundance of data and information – information that is often changing – and many sales leaders may not realize that the true source of their issues are being caused by inefficiencies across their sales team.
The solution
The problems you can face with either not having properly set up territories or not having integrated territories with your overall strategy can be the difference between success and failure for your sales team. Therefore, it is crucial for sales leaders to address this and ensure that their sales teams are motivated and working efficiently towards hitting organizational targets.
Few sales leaders are aware of the possibility to have one comprehensive platform covering all key areas of your sales performance management. As the world of sales becomes ever more competitive, disrupted, and challenging, sales leaders need to make a change to support their strategies and ensure their teams are best placed for success for the years to come.
Learn more about how Board can support you, and your organization with our integrated end-to-end platform.