Charles Darwin believed that humans, just as much as animals, rely on inherited instincts. A growing number of sales experts believe that salespeople, just as much as sales managers, should select an animal as a sales metaphor. It may surprise you that there are currently more than a dozen books written by sales experts that feature an animal on the cover. While animals can be great teachers, not every sales author succeeds at teaching.
Before you scroll down to take a look at the first six animal-inspired sales books, let's start with a quiz:
Which animal could give your sales career a much-needed boost?
A whale
A fox
An elephant
A tiger
A gorilla
A big fish
Write down your answer and send me your comment.
Now let's enter the sales-book zoo and take a look at the animals the authors have chosen to help us learn, remember, and enjoy their shared wisdom.
Whale Hunting: How to Land Big Sales and Transform Your Company by Tom Searcy and Barbara Weaver Smith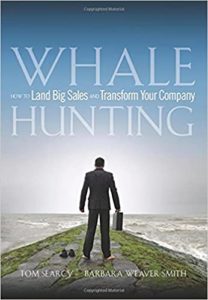 Promo copy: Using the ancient Inuit whale hunt as a metaphor for big sales, Whale Hunting gives you a clear nine-phase model for successfully finding, landing, and harvesting whale-size sales accounts — the kind of sales that transform your business.
My take: The book was published in 2008 and still has a great Amazon rating. I recently spoke to the author, and he shared a few stories about how he is teaching sales teams to prepare for the biggest sale of their lives. I recommend this book.
The Selling Fox: A Field Guide for Dynamic Sales Performance by Jim Holden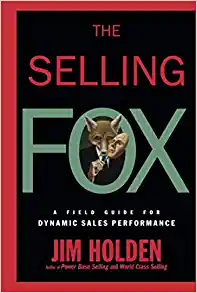 Promo copy: "Selling foxes" dominate their competition with the knowledge that their success isn't based on what they sell, but on how they sell. They rely solely on their skills, knowledge, and influence, never letting past success lead to a false sense of security and always striving toward bigger and better results.
My take: When the book came out in 2002, it was ahead of its time. (I endorsed it in 2002.) The lifespan of a real fox is six to eight years. The book has morphed into a software program called efox, which helps salespeople close more deals.
Bag the Elephant! How to Win and Keep BIG Customers by Steve Kaplan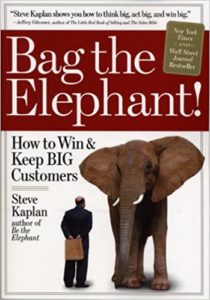 Promo copy: This book has the strategy, the nuts and bolts – everything smart businesspeople need to win and keep those all-important "elephants'" the make-or-break customers who can dramatically increase your revenue, profits, and success. It's packed with dynamic advice for all sales professionals, small-business owners, entrepreneurs, and executives.
My take: This book has legs. It's been heavily promoted and landed on the New York Times best-seller list. Jeff Gitomer said, "Kaplan shows you how to think BIG, act BIG, and win BIG." But I say Whale Hunting offers more value.
Unleash the Tiger: A New, Revolutionary Approach to Sales by Marvin Himel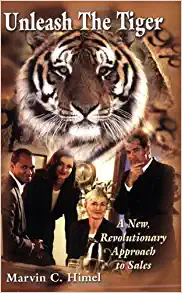 Promo copy: The Tiger System, created by Marvin Himel, is a proven process that guarantees success beyond most people's expectations. In Unleash the Tiger, you will find 10 compelling steps to help you in your journey toward greatness. If you master these skills, you will succeed beyond your wildest imaginings.
My take: The book cover looks like a poster for a B-rated, low-budget movie. Unfortunately, the content is outdated. I had never heard of Marvin Himel, but I did watch this video clip, in which he teaches a group of salespeople. Is he a real tiger? No. A paper tiger perhaps? Yes.
Gorilla Sales: How to Sell Anything Anytime Regardless of the Apes in Charge! by Curt Redden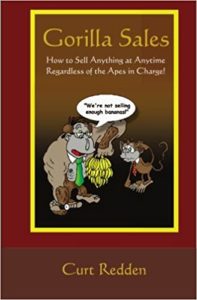 Promo copy: This humorous fable chronicles the sales education of Sam, a young, ambitious, and competitive monkey with a dream to become top banana at the prestigious World of Chimpions sales competition. Though new to selling bananas, Sam embarks on a whirlwind journey to learn sales best practices and pitfalls. Along the way, he learns the lessons required to help sales monkeys improve their abilities and succeed in any sales effort, anywhere, at anytime.
My take: I found something in common with the author: We both have twins. But we don't share the same sense of humor. Redden's Website, www.gorilladung.com, offers "dung nuggets," which may leave some people LOL, but leaves me scratching my head. I personally prefer the nuggets created by newspaper columnist Dave Barry, who once wrote about the fastest animal on the planet: "Scientists tell us that the fastest animal on earth, with a top speed of 120 feet per second, is a cow that has been dropped out of a helicopter." I have a hunch that this book dropped off the sales charts just as fast.
Eating the Big Fish: How Challenger Brands Can Compete Against Brand Leaders by Adam Morgan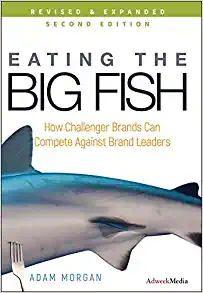 Promo copy: Morgan's primary objective is to provide what he calls a "magnetic compass" for "small fish," which will enable them to compete successfully. Obviously, they face problems. Certain markets have moved for the first time from maturity to overcapacity. As a result, there is not enough "food" to go around. While turning their attention downward, the "big fish" have also turned outward…toward small fish. As the big fish move downward, retailers move upward.
Time and again, he stresses the importance of ideas – actually, better ideas, hence the imperative to break with the past. Assume nothing, take no one and nothing for granted, and constantly ask, "What if?" and "Why not?" For small fish, the status quo is death. Period. Better ideas are engaging, provocative, and self-propagating. They help to create competitive advantages.
My take: The companies featured in this book are no small fish, but their challenger attitudes keep them in the winner's circle. It is a very worthwhile book for marketers and C-level executives. Check out the company's Website and interesting blog. http://www.eatbigfish.com