Productivity is never far from the top of any effective sales team's agenda, and current macroeconomic pressures only underscore the need for leaders of sales organizations and chief revenue officers to sell more with less.
Recent McKinsey analysis of nearly 500 B2B companies across multiple industries bears this out, finding that top performers dramatically outshine their peers in terms of productivity and profitability. The top quartile enjoys gross margins fully two-and-a-half times higher than the bottom quartile for every sales dollar spent.
These hyper-productive organizations all share one common characteristic: a willingness to radically simplify processes. Doing so reduces friction and complexity for sellers – freeing up valuable customer time while boosting personal engagement and job satisfaction. Here are three areas where radical simplification can pay real dividends:
1. Embrace Automation to Offload More Than You Thought Possible
Frustratingly, the average sales team spends two-thirds of its time not engaged in any actual selling. More than 70 identified use cases highlight the benefits of automation – some of which freed up more than 20% of additional selling time in a number of ways, including lead qualification, opportunity management, configuration, pricing and quoting, order management, and post-sales activities (Exhibit 1).
Despite initial skepticism and the steep learning curves involved, most salespeople wind up loving new automation once they see what it can do for them. While generative AI has been this year's hot topic given its potential to increase sales productivity by approximately 3–5% of current global sales expenditures, simple RPA (robotic process automation) solutions remain a great place to start or improve processes. Effective solutions don't always need to be fancy or complex.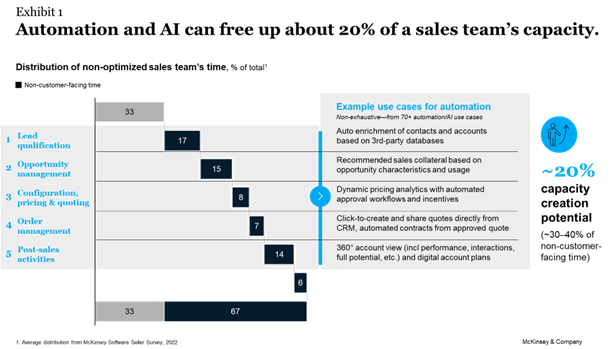 2. Stop Wasting Time Selling to the Wrong Customers
While most sales teams actually spend the minority of their time selling, many B2B sales organizations spend more than half that precious time on customers that generate less than 20% of their total revenue or expected growth. Top performers turn that ratio on its head – deploying advanced analytics to arm sales reps with the knowledge necessary to reorder their priorities and focus their time and energy on accounts with higher potential for growth.
Organizations should also explore digitization of the sales experience for smaller, more transactional purchases, where customers are keen to have self-serve options. These clients openly admit desiring less direct support and can easily adapt to a more fully digitized model. Taken together, these actions can lower the average cost to serve from 10–20% – raising revenue per sales FTE by an average of 3–15%.
3. Focus on Incentives That Motivate Top Performers
Successful sales organizations know how to find, train, and retain the top sellers that drive the lion's share of their business. They know how to identify particular capabilities as well as intrinsic traits core to successful selling. They then craft specific learning journeys and modules to fine-tune the skills of top performers, who are free to pick and choose the additional capabilities they need to acquire on their own schedules.
Top sales organizations also realize the importance of looking beyond salary, commissions, and quota-driven models to create attractive compensation programs that appeal to top performers. They include a range of options across their incentive programs, including benefits, non-cash awards, special recognitions, and unique leadership and/or career acceleration opportunities.
There's no lack of room for sales leaders to experiment and find new methods to drive productivity via existing resources, technology, and talent. Meaningful change doesn't always require major investments in time-consuming initiatives. But when some investment is warranted, it usually results in rapid payback – making radical simplification a ripe action to undertake during uncertain economic times.