To be perfectly blunt, most remote meetings suck. Stuck in endless meetings where we are distracted and disconnected, we often find it difficult to pay attention. How many meetings can you even remember from the past week – let alone the past month? It's all getting to be one long meeting blur. Most of us feel more drained during a full day of remote meetings than we do from the non-stop activity of an in-person meeting. Frankly, we're just exhausted.
This is not good for anyone trying to sell in the remote meeting world. If you can't differentiate yourself or your products and services – or make a lasting impression – how will your prospects even remember your pitch so you can close the deal?
Zoomhell is Real
#PowerPointFatigue and the #ZoomHell phenomenon are real, and they dramatically reduce your ability to sell and connect with your prospects. The root cause is sensory deprivation. There is a rooted in the processes that trigger mental fatigue. A core psychological component of fatigue is a rewards/costs trade-off that happens in our minds unconsciously. For everything we do, there is a trade-off between the likely rewards versus the cost of engaging in the activity. For instance, functional MRI data reveals that live face-to-face interactions trigger far more neural activity involving reward compared to viewing recordings. So, more active social connection is associated with more perceived reward, which in turn affects the very neurological pathways modulating alertness versus fatigue.
Engage your customers, and chemicals such as dopamine (happiness) and oxytocin (social bonding), trigger brain structures associated with reward. This increases alertness, energy, and motivation – the opposite of fatigue.
The Problem with Remote Meeting Tools
Video conference tools are flawed as they force the presenter to disappear and allow the static slide deck to completely take over, thereby eliminating eye contact and disconnecting the viewer(s) from the presenter – and vice versa. As a rule, existing remote screen sharing tools do not allow the presenter to create an interactive and memorable remote meeting that engages the audience at all.
During remote presentations, un-engaged or disconnected customers rarely remember you or your pitch.
Sales teams have a tough time differentiating themselves and building trust using standard remote presentation tools.
If customers don't retain your information, the chance of them buying your product or services decreases dramatically.
It is much more difficult to manage customer expectations and keep customers happy when they have difficulty focusing during project update meetings and don't remember information presented previously.
Ultimately, poor customer engagement often leads to unhappy or dissatisfied customers where long-term trust in not being created.
Mitigation Strategies
All sales calls – from initial customer discovery calls to critical project update cadence calls – need to be transformed to deal with the challenges of the new normal. Based on the principles of neuroscience, I have discovered a number of things that can be done to counter the effects of fatigue and dramatically improve the engagement of your next remote meeting.
1. Executive Presence
Your remote meeting presence is not just making sure your camera is turned on. You must stand out and make an impression, just like you would in an in-person meeting. Your deck is responsible for only 7% of the value of the meeting. More than 90% of the meeting effectiveness is driven by you – or else the salesperson is not required, and the deck would do the selling!
This means you need to show up and stand out.
Have appropriate lighting and orient your camera such that your customers can easily see you. If you make them struggle to see you clearly, they will immediately disconnect.
Make sure you are more prominent than your background. Close the drapes or rotate your camera such that you are well lit.
Make sure your camera is at eye level. This is critical so you are not being seen from a weird, unflattering angle.
Finally, ensure your image is more prominent than the data you are presenting. This is one of the most important things to consider. Don't let the video conference platform make you become a tiny postage stamp!
2. Guide Their Attention
Another major challenge with remote meetings is the inability to "lock gaze" with your prospect. When you present in person, it is easy to capture your audience's attention as your eyes lock. They read what you write, and they look at what you are looking at. When this happens, their brain mimics what you are doing, and a deeper level of connection is established between you and your audience. This can dramatically reinforce learning and establish a strong neural activity that mitigates fatigue and allows for long-term memories to form.
In a remote setting this is practically impossible, as the audience has no idea what you are looking at. Your body language has minimal effect and your ability to point at something is curtailed. The ability to ink, write, and highlight important information becomes critical.
Ink and underline important concepts.
Repeat critical information by writing it down. The act of watching you write not only slows down the presentation but reinforces the message in the mind of your prospect.
Engage the audience by writing down their comments and by providing real-time visual feedback.
3. Send a Video Recap Message
Sending a video message that recaps the meetings and highlights all the salient points is a powerful tactic. Not only does it reinforce the information delivered, but watching the video allows the prospect to remember the original meeting in greater detail. It also allows them to forward the video to additional team members and decision makers without loss and deterioration.
Reactiv SUITE
We developed Reactiv SUITE to solve these problems and transform your sales meetings with a few simple clicks. Reactiv SUITE creates an impactful experience through easy meeting initiation for hosts and a differentiated experience for remote participants. The software allows you to layer your camera image with your content in a manner that lets you stand out. It also integrates your brand, logo, and business card into the presentation to make you more memorable. In addition, the app allows the presenter to ink, highlight, and draw attention and control the audience's focus.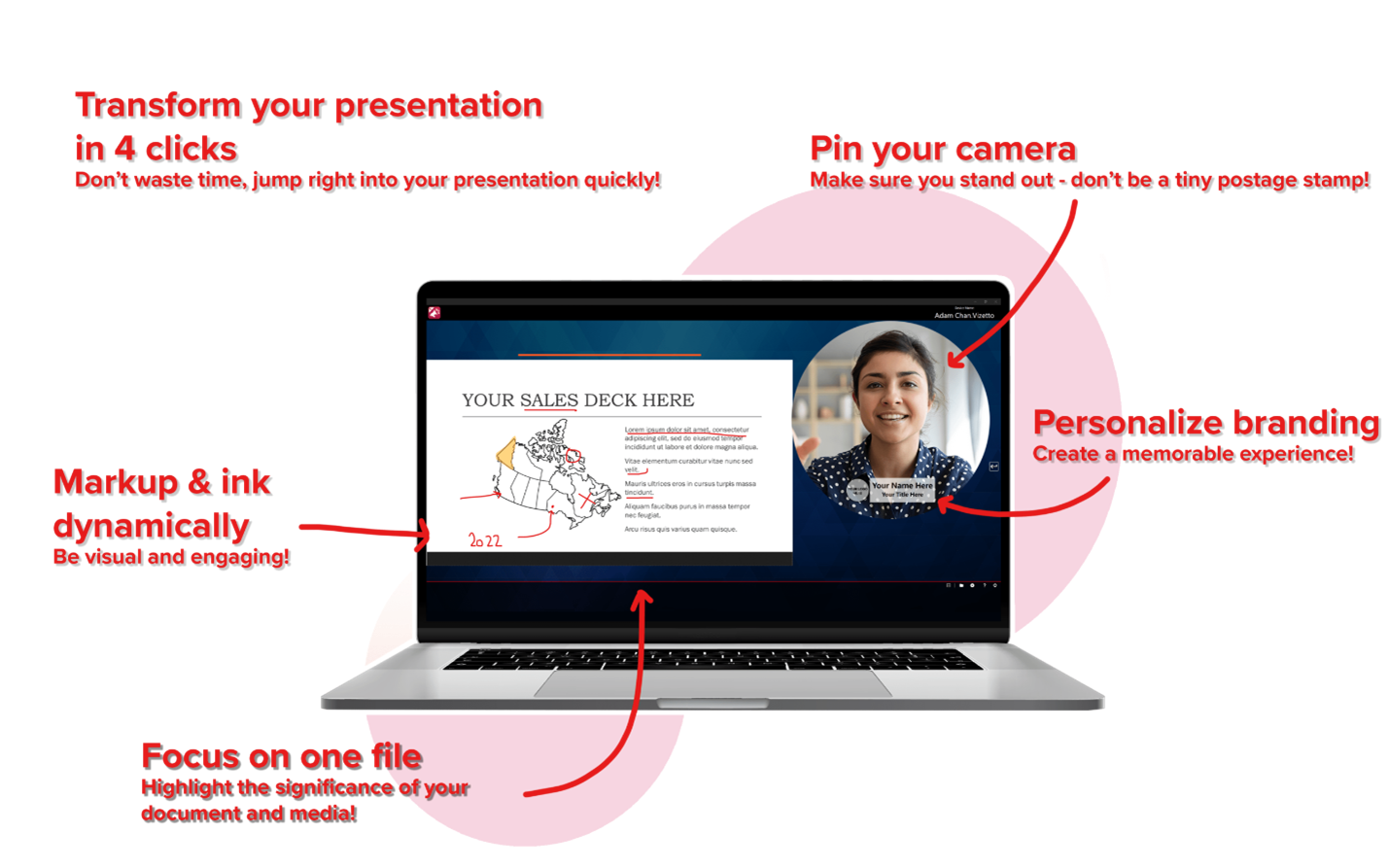 By reinforcing presentations in unique and natural ways, participants are more likely to recall the information later. Through interaction with shared content, participants are more likely to stay engaged and make eye contact with the presenter.
Reactiv SUITE works with any standard content and integrates with your existing video conferencing tools and acts an "equalizer" for teams leveraging various meeting platforms and devices. Through a single easy-to-use interface, all meetings are elevated to professional and memorable engagements.
Download a free copy of Reactiv SUITE and transform your next meeting! Or join one of our free workshops and get hands-on training.
Av Utukuri is founder and CEO of Vizetto. Over his 20-year career, Av has been a serial technology entrepreneur of numerous technology companies. He has almost 100 patents to his name, been involved in commercializing complex hardware and software technologies, raised significant venture capital, and executed on marketing and sales strategies to bring sophisticated technology to the market.