Although all disciplines changed dramatically last year, few were as profoundly recast as technology, which found itself in a whirlwind of "digital transformation." The result is both tremendous opportunity and challenge for technology sellers.
To understand the current state from a buyer point of view, we conducted a series of surveys with 708 senior executives responsible for billions of dollars in technology spend. We worked with them to dissect their most recent, major (>$250,000) technology purchases. Their behind-the-scenes insights shine a valuable light on who, how, and why they buy.
It's rare that IT alone buys tech.
Technology and "the business" have been merging for years. This came to fruition as the global pandemic rendered remote workforces and digital customer experiences a necessity. Today, all business is, by definition, technology oriented.
Overall, this is positive for technology sales. But it also changes the playing field. Buyers shared that only one-third (34%) of purchases were initiated independently within IT. The rest were born in the business or as a collaboration between the business and IT. Rather than targeting titles, sellers must start by identifying "white space": unresolved problems in their target accounts. Then, they can uncover who owns those problems – wherever they may sit in the organizational chart.

Of course, just because a project is initiated within one team, that doesn't mean the full buying process remains there. Given expectations for 2021 growth, cross-functional buying teams are on the rise. Buyers shared that, on average, 5.5 decision makers impact a major technology purchase. Many situations had more than 10 stakeholders who could sway selection. This increases the pressure on sellers to expand networks and hedge against losing deals to unanticipated influences.
Buying is formal, complex, and frustrating.
With more decision makers, increasing competition, and longer sales cycles, it is assuredly harder to sell technology. But it is also harder to buy technology. With rare exception, buyers described their purchasing processes as formal and frustrating. As a result:
The partnerships between business and IT were vital, but often inelegant.
Buyers found it exhausting to accurately compare solutions "apples to apples."
The lack of internal consensus prolonged decisions (and problems).
Misalignments between budgets and business requirements stymied contracting.
Interestingly, many buyers bristled at the formality of their own internal procurement processes – lamenting "politics, red tape, and unnecessary steps."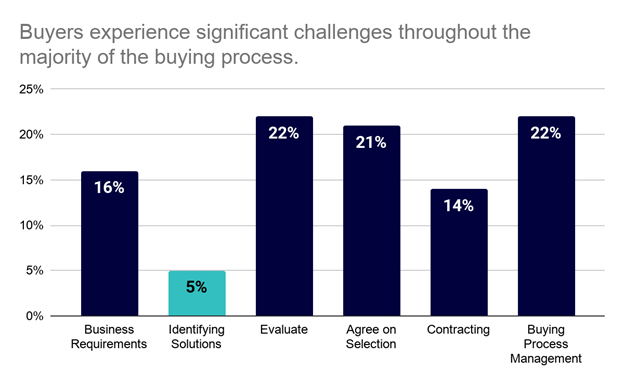 The only step buyers did not deem challenging was figuring out their options. In fact, only 5% of buyers said identifying potential solutions was their biggest challenge. That's surprising given the sheer enormity of solutions in the marketplace.
So, how did buyers efficiently sift through all the possibilities? They didn't. Unfortunately for sellers, buyers usually knew there were multiple options but chose convenience – constraining conversations to existing relationships. Sellers lacking the right connections can be excluded from opportunities where their solutions would be a perfect fit.
Decisions are difficult; intangibles tip the scale.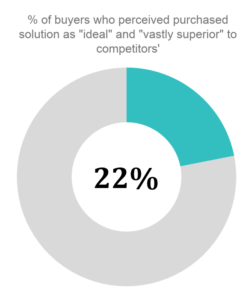 Buyers shared that selecting a clear-cut winner was a rarity. In fact, in less than one-quarter of situations (22%) did buyers perceive the winning solution as an "ideal fit" and "vastly superior" to competitors. Usually, it was a nuanced decision based on "close enoughs" and intangibles.
That's where high-performing sellers had an advantage. Buyers looked at the buying process as a way to determine whether a potential for partnership exists. In two-thirds (65%) of the situations analyzed, buyers noted their final decision was "significantly influenced" by whether the seller had demonstrated cultural alignment and effectively navigated power structures. When solutions are viewed as similar, those two factors can be the difference between winners and second choices.
What should sellers do differently?
Taken together, these insights provide key guidance for sellers and enablement teams:
Build and maintain a broader, cross-functional network of relationships.
Find white space early; create business and technical awareness of your ability to solve for it.
Actively help buyers navigate their complicated buying processes.
Double down on the intangibles, such as demonstrating partnership potential.
Executing these motions presents a challenge. To do this well, sellers need to know where white space exists, who possesses power, how buying processes work, and more. If sellers wait until (hopefully) gaining a discovery meeting to ask the client, it's usually too late.
| | |
| --- | --- |
| What sellers have … | What sellers need … |
| Marketing language, 10Ks | What drives priorities, unsolved problems |
| Organizational structure | Power structure, decision makers, and roles |
| Mission, vision, values | The culture and how to work within it |
| Vendor criteria from RFPs | Buying processes, decision making styles |
| Financial reports | Where and why investments are being made |
Most sellers are equipped with news feeds, contact databases, and social networks. While incredibly helpful, these tools don't mine undocumented intelligence – that which resides in the minds and experiences of people, and not on a Web page or in a system field. To capture these deeper-level insights, leading organizations are turning to "human intelligence networks" composed of experts and former executives from target accounts who can close information gaps and fuel focused, differentiated strategies.
What next?
Fortunately for sellers, technology is expected to remain a core investment for many fiscal cycles to come. However, the specifics of who buys technology – and how and why they make buying decisions – will constantly evolve. Sellers will need to continuously refine their approaches to take advantage of emerging opportunities without falling victim to the growing complexity. It promises to be anything but boring!
Seleste Lunsford is chief research and strategy officer at Emissary. Connect with Seleste on LinkedIn for Emissary's latest research.