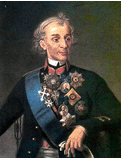 The Russian general Alexander Suvorov was one of the few generals in history who never lost a battle. He became famous for his manual, The Science of Victory, and his motto, "Train hard and fight easy." Suvorov became a legendary leader.
At a recent Sales leadership Conference, I had the opportunity to conduct a short interview with Sharon Daniels, president and CEO of Achieve Global, one of the leading sales and leadership training companies.
Watch the 7-minute video then review the questions below:
Ten Ideas for Sales Leaders for Creating a Proud and Winning Sales Team
1. Sales leaders need to assume three roles: the strategist, the coach, and the communicator.
Question: How much time do you spend coaching salespeople compared to the time you spend taking over the role of the supersalesperson?
2. If you want to help improve performance, start with objective measurements.
Question: Do your salespeople know their pipeline volume? Do you help them prioritize opportunities? Do you offer feedback on close ratios?
3. Identify your salesperson's strengths and weaknesses.
Question: Do you have a method for capturing the skills and techniques applied by your top performers? Do you share the best practices across the sales organization?
4. Go on joint calls with salespeople and offer feedback.
Question: How many times do you take the reins during a call? How much time do you spend reviewing and analyzing what happened during a joint sales call?
5. Focus on the developmental needs of the salesperson during every coaching call.
Question: To what degree to you act as a cheerleader for your salespeople vs. acting as a performance coach?
6. Pull in other experts to help a salesperson with a particular challenge.
Question: Do you act as the all-knowing sales expert, or do you ask others to chip in when a problem arises that you may not be able to resolve on your own?
7. Deploy the best available resources within your organization to help your salespeople win.
Question: What can you do to get other departments – marketing, for example – more engaged with your sales team to enhance productivity?
8. Create an effective sales process, and coach people to follow that process.
Question: If a salesperson is above quota, do you care if he or she doesn't follow the prescribed process?
9. Match the right selling skills to the right process to optimize results.
Question: Have you established a culture of measurement where salespeople know what performance levels are required to reach their sales quota? Do your salespeople know exactly what skills are expected of them? Do you inspect what you expect?
10. Focus on the challenges that your customers experience in this tough economy.
Question: What improvements have you made in your sales process to capture the voice of your customer? What adjustments have you made to accelerate sales to make up for the economic slowdown?