Salespeople are always looking for ways to improve upon their sales process and brand power. Improvements to the sales team and insights that make for greater ROI are a constant objective for leaders in any sales organization. But finding ways to continuously improve upon these processes and best practices is typically difficult for many salespeople.
In any sales organization, making the pitch and closing the deal are only two aspects of the larger cycle that places sales as a priority among a number of other facets of business. Salespeople are often trained to search for cross-selling and upselling opportunities as a habit – but making the upsell can be harder than it seems.
Opportunities that grant your sales team access to upselling options often provide a great way to assist the client with any consumer needs they may have while improving your brand's bottom line at the same time. It's for this reason that many companies opt to include upselling as a key feature in their sales training. Yet, upselling remains a highly sought-after (yet rarely achieved) feat in the world of sales in the United States. This is primarily a result of relying on incomplete market research and using upselling techniques that approach clients with no interest in additional features or newer models.
Each client is different – so, too, are their personalized needs. Yet, upselling tactics are often implemented as a one-size-fits-all solution that often inevitably breaks down after the initial pitch. The best companies and sales teams know this and take steps to vary their pitch and posture. Creating best practices and relying on metric insights that will inform your brand's upselling approach is the best way to build your team into the sales leader it can be.
Read the Client's Needs
Sales leaders know that clients will often explicitly speak to their own needs. Customers are vocal advocates for the products and services that will make their lives easier. Tapping into this through social media and traditional advertising research can help you home in on the types of upselling opportunities your sales consultants can expect to field as they go about their typical daily schedules. Perhaps the best way to evaluate these spaces for upsell pitches is in genuine interest in the use case of a product your customers are seeking to leverage.
In the technology space, for instance, a corporate client may be procuring a few hundred new laptops for their office staff and require some assistance in selecting the appropriate product for their specialized needs. Speaking with the client's purchasing rep to understand the specific use case toward which the company will apply their new devices can help your sales professionals build a case for an upsell or additional complementary purchases.
New computers for the team may only strictly require a minimal RAM storage capacity, but an upgrade to the next tier of devices may increase productivity across the firm by 10%. Similarly, docking stations can create a more streamlined experience for each user and improve the company's overall office morale. Exploring these options as an active participant gives your sales team a friendly face when it comes time to make the upsell pitch, and it helps naturally drive sales higher while ultimately giving clients the products or services they want – everyone wins when the client's needs are brought to center stage.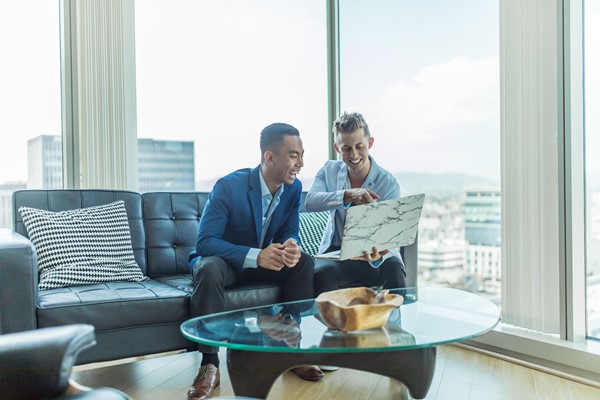 Network with Your Client List To Build Stronger Relationships
This is the perfect opportunity for your team of sales professionals to engage in customer service research and try to identify spaces in which an upsold product might meet the client's needs in a more comprehensive manner. Professional selling is all about identifying and matching customer service needs to promote long-term customer retention – and upselling can form a component of this strategy or exist as a wedge that drives clients away from your firm's sales reps.
By participating actively alongside your clients in the exploration of new products or services, you can effectively turn the power of selling into a communal, customer service-based event. Your clients will feel a greater desire to work with you, and your reps will enjoy participation in growing greater sales forces over time. Working with clients to identify gaps in their current systems places the focus squarely on the client and can help your sales leaders position themselves as advocates rather than opportunistic vultures looking to pounce on buyers.
Rewriting this relationship will take some time, and sales training companies, in-house sales managers, and even leading sales magazines like Selling Power, have been advocating for this restructuring for many years. Yet, this new way of thinking when it comes to traditional sales is only beginning to take root in some organizations. Rethinking the relationship to place the client first can give your team the edge it needs to satisfy all involved in the sales cycle.
By promoting your team as an equal partner in the research phase of a customer's buying pattern, you place your sales team in the path of any potential opportunities for purchasing. This means you can promote products or add-ons as a trusted partner. However, maintaining this type of relationship with a client takes real talent. Buyers aren't ignorant, and they know when they're being taken advantage of. To foster a great relationship with other businesses or direct consumers, you must maintain a positive and professional demeanor throughout your engagements.
Promoting products that work for the client's needs – and building a continuing reservoir of trust – will boost sales in the long run and give you a leg up when it comes to upselling and cross-promotion of tertiary articles a customer might want to add to their basket.
Upselling is a specific talent that many sales professionals haven't yet mastered. With a change in your firm's approach, upselling can be brought in as a core value-added service provided by your sales team rather than a slimy tactic designed to get the customer to spend more after they've begun to trust your team. Make yourself a partner in your customers' success, and they will add to yours in return.