Report
How to Engage the Empowered B2B Buyer:
Four Key Selling Skills Salespeople Need to Win Deals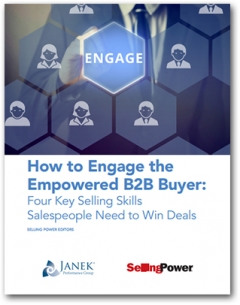 Today's sales professionals are operating in the age of the empowered B2B buyer. With the right selling skills, your sales force has the potential to stand out from your competition and become a factor of differentiation for your company.
Download this white paper and learn the top skills your salespeople need, plus insight about which kinds of sales roles will eventually become obsolete, and why.