Selling Power 500: The Largest Sales Forces in America (2015)
Every year, the
Selling Power
magazine research team ranks companies according to the estimated number of salespeople they employ. These 500 top companies – which employ the
world's largest sales forces
– depend on more than 24 million salespeople to achieve their revenue goals.
Read Article
ACCESS THE COMPLETE 2015 SELLING POWER 500 LIST
The list contains full company directories, including:

CEO Names
names of top sales leaders
contact info (phone numbers, Websites)

Price: $399 Buy Now.


Contact Customer Service at customerservice@sellingpower.com with questions regarding purchase.

HOW TO GET THE MOST OUT OF THE SP 500
TOP EXECUTIVES - Use the SP 500 to benchmark your company's productivity per salesperson. Find out how you measure up to your competition and the average in your industry. Check which companies have decreased their sales force and which companies are gearing up for expansion.
SALESPEOPLE - Use the SP 500 as your best-prospect list. There is no other source that gives you access to those companies that purchase products for a large number of salespeople. This is your ideal list if you sell sales training, sales incentive services, CRM solutions, automotive fleets, sales meetings, or trade show services. Begin your account planning by researching company Websites.
JOB SEEKERS - Use the SP 500 to plan your sales career. These 500 companies employ the largest sales forces in America. Large companies invest significant amounts of dollars in recruiting, training, and rewarding their sales staff.
EDUCATORS - Use the SP 500 as a tool to build next year's curriculum. Every year, SP 500 companies will seek to recruit more than 500,000 college graduates. There are more than a dozen colleges that offer sales curricula, and all of their graduates can look forward to solid careers in sales. Prepare your future students for a lucrative career in sales. (Note: Media research shows that the average Selling Power reader has a college degree, works in sales management, and has a household income of more than $174,000 per year.)
Free Webinar
Using Analytics to Drive Sales Behavior and Hit Quota


Tuesday, March 21
1:00 pm ET


REGISTER NOW >
Daily Cartoon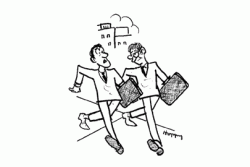 Well?