Selling Power Magazine – February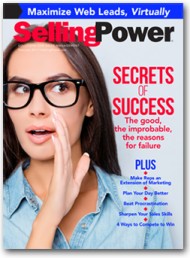 Features in this issue include:
Secrets of Success: How to Turn Your Dreams into Reality
Why Sales Productivity is Not Enough
4 Ways to Become a Better Competitor
Time to Change: How to Beat the Procrastination Bug
3 Ways to Sharpen Existing Sales Skills
Daily Boost of Positivity
Do you drive yourself to success by some higher meaning, or are you always on the hunt for the next commission? If you dedicate your life to a cause higher than yourself, you will never want to stop contributing. Create enough meaning, and you will create enough energy to accomplish your goals. It's okay to be ambitious, and it's okay to use numbers to stay motivated and benchmark your personal progress. But if you limit the meaning of your work to money, you will soon run out of energy.
SUBSCRIBE TO THE DAILY BOOST OF POSITIVITY
White Papers, Reports, and Special Offers
Free Webinar
Using Analytics to Drive Sales Behavior and Hit Quota


Tuesday, March 21
1:00 pm ET


REGISTER NOW >
Daily Cartoon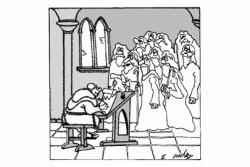 Prophets are up.