Selling Power Magazine – May 2015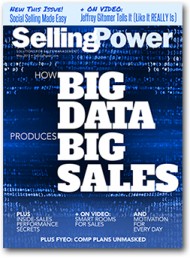 Features in this issue include:
How Big Data Produces Big Sales
Inside-Sales Performance Secrets
Motivation for Every Day
On Video: Jeffrey Gitomer Tells It (Like It REALLY Is)
New This Issue! Social Selling Made Easy
Talk Smart to Close
Daily Boost of Positivity
After years of executive and management experience in sales, many become proven and well-respected leaders; however, experience itself is not the mark of a successful leader. Many sales managers and leaders with extensive backgrounds are, in fact, not very effective at what they do. The path to success in a sales career is marked by dedication to constant improvement and growth. The sales profession changes very quickly. Just sticking around is not enough to live up to the constant challenges of leading a sales team.
SUBSCRIBE TO THE DAILY BOOST OF POSITIVITY
White Papers, Reports, and Special Offers
Webinar
How to Accurately Qualify Opportunities


Wednesday, June 3
10 am PT / 1 pm ET


Register Now
Daily Cartoon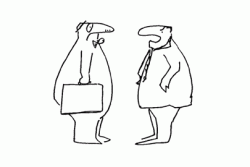 Not much of a sales talk. Your mouse traps are recommended by nine out of ten mice?