Selling Power Magazine – October 2014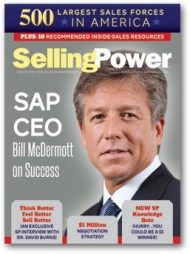 Features in this issue include:
The SP 500 - The 500 Largest Sales Forces in America
Use this $1 million sales-negotiation strategy on your next call
Think better, feel better, sell better (exclusive SP interview with Dr. David Burns)
10 Inside Sales resources to boost your sales team's productivity
Daily Boost of Positivity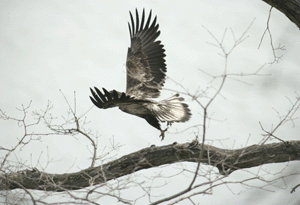 In sales, attitude is king. Do you have a winning attitude? If you don't truly believe that there are sales out there waiting to be made, then making 100 phone calls, having the perfect script, and doing loads of research won't help. You may, for example, find yourself prefacing your conversations with self-defeating statements. But don't dwell on what won't work or what's not going right. Be confident that you can find the win-win in any situation, and you'll learn what a positive impact attitude can have.
SUBSCRIBE TO THE DAILY BOOST OF POSITIVITY
White Papers, Reports, and Special Offers
Webinar
Sales 2.5: The New Rules of Cold Calling


Thursday, November 6
1 ET / 10 am PT


Register Now
Upcoming Event
Sales 2.0 Conference


Monday, March 16


More Info
Daily Cartoon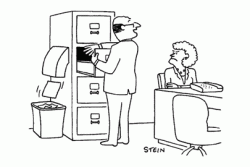 As you can see, I'm putting your complaint proposal right here in my top priority file.