Selling Power Magazine – February 2015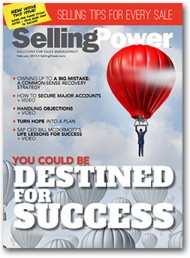 Features in this issue include:
COVER STORY: You could be Destined for Success! A plan for reaching your goals
Manage major accounts more effectively
Turn hope into a plan for success
Owning up to a big mistake: a common-sense recovery strategy
Daily Boost of Positivity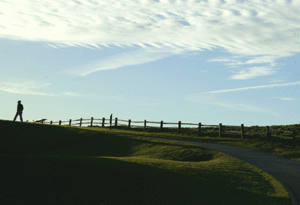 There is no such thing as a bad omen. There's also no such thing as a good omen. Both of these beliefs represent superstitious thinking. That can be a dangerous path to tread. When something bad happens, don't assume that more bad things are likely to follow. When something good happens, it won't automatically be balanced out by something bad. Focus your mind on the things you can control. You can't predict the future, but you can always control your reaction to whatever comes your way – good or bad.
SUBSCRIBE TO THE DAILY BOOST OF POSITIVITY
White Papers, Reports, and Special Offers
Webinar
How to Equip Your Sales Force to Have Smarter Business Conversations


Thursday, April 9
11 am PT / 2 pm ET


Register Now
Upcoming Event
Sales 2.0 Conference


Monday, April 27 – Tuesday, April 28


More Info
Daily Cartoon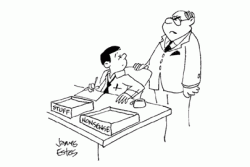 About those IN and OUT baskets of yours, Barnfister...