Selling Power Magazine – June 2015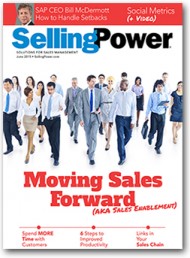 Features in this issue include:
How Sales Enablement Moves Sales Forward
Eliminate the Gap between Sales & Marketing
Spend More Time with Customers
Six Steps to Better Productivity
Jeffrey Gitomer on Happiness
Daily Boost of Positivity
When we are completely happy, we also feel that we have more energy. That can translate into more productive days and enjoyment of day-to-day activities. Conversely, continual unhappiness and longing to be happy drain us. Although pleasure can lighten unhappy moments, happiness is the result of long-term meaning. Whenever we engage in work that we really love to do, we will always lose track of time and feel an abundance of energy.
SUBSCRIBE TO THE DAILY BOOST OF POSITIVITY
White Papers, Reports, and Special Offers
Webinar
How to Unclog Your Sales Pipeline


Wednesday, July 15
11 am PT / 2 pm ET


Register Now
Daily Cartoon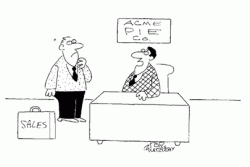 Think, Benson - selling our product should be as easy as what?