Selling Power Magazine – December 2014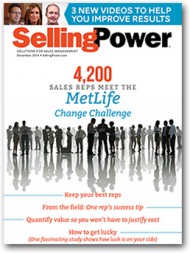 Features in this issue include:
4,200 Sales Reps Meet the MetLife Change Challenge
Lucky You: This study shows how luck really is on your side
Quantify value so you won't have to justify cost
Keep your best reps from jumping ship
Daily Boost of Positivity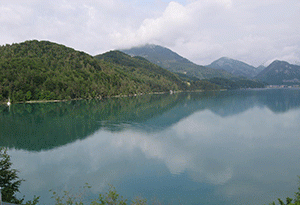 Salespeople must work hard to keep negativity in check. There's no denying the fact that cold calling, prospecting, and facing daily rejection has a way of piling up on even the best salespeople. But there are ways you can combat the urge to sink into a negative slump. Go for a walk, call someone who always cheers you up, or do something nice for someone in need. Never allow thoughts of self-doubt and insecurity to take root in your mind.
SUBSCRIBE TO THE DAILY BOOST OF POSITIVITY
White Papers, Reports, and Special Offers
Upcoming Event
Sales 2.0 Conference


Monday, March 16


More Info
Daily Cartoon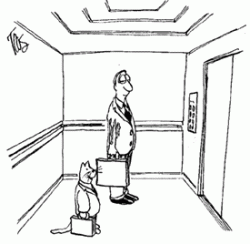 My anxiety about this sales meeting has disappeared.
Thanks for letting me use your sleeve as a scratching post.