Selling Power Magazine – January 2015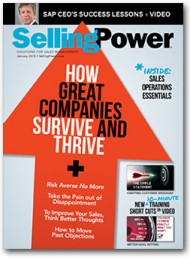 Features in this issue include:
COVER STORY: How great companies survive and thrive
Tips and best practices for Sales Operations professionals
Improve your sales by thinking better thoughts
The art of creating customers
Transitioning from selling to supervising
Daily Boost of Positivity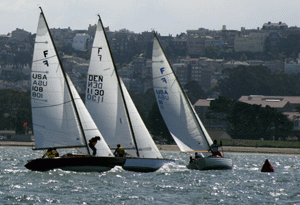 What's your first reaction when you close a deal? When the sale is fresh in your mind, take a few minutes to review it and write down what you did right. What steps did you take? What were the factors under your control that contributed to the sale? You don't want to have to reinvent the wheel every time; what winning behaviors can you replicate to make sure you have a good chance of winning again?
SUBSCRIBE TO THE DAILY BOOST OF POSITIVITY
White Papers, Reports, and Special Offers
Webinar
Selling Smarter and Faster: Increasing Revenue and Profit Velocity with Price-Optimized CPQ


Thursday, January 29
9 am PT / 12 pm ET


Register Now
Upcoming Event
Sales 2.0 Conference


Monday, March 16


More Info