Selling Power Magazine – June 2017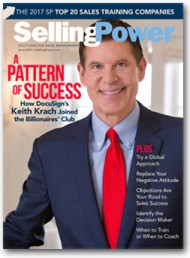 Features in this issue include:
A Pattern of Success: Featuring former DocuSign CEO Keith Krach
Learn How to Implement a Global Approach to Sales
How to Replace a Negative Attitude with Positive Energy
How Objections Represent Your Road to Sales Success
When to Train or When to Coach
Daily Boost of Positivity
Too often salespeople prefer to talk up the wonders of their terrific solutions before diligently assessing a customer's unique circumstances. Great salespeople instead approach a problem with the mind-set of a physician, methodically probing and analyzing symptoms before arriving at a diagnosis. This takes time and hard work. But by working with the customer and determining the nature and extent of the pain, they more often find a mutually agreeable plan to heal whatever it is that hurts.
SUBSCRIBE TO THE DAILY BOOST OF POSITIVITY
White Papers, Reports, and Special Offers
Free Webinar
What Does the Future of Sales and Service Look Like?


Thursday, July 13
2:00 pm ET


REGISTER NOW >
Daily Cartoon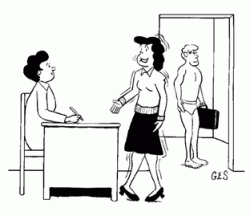 Believe me, he's not just another underwear salesman!