Selling Power Magazine – September 2015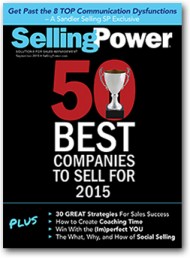 Features in this issue include:
Selling Power's 2015 list of the 50 Best Companies to Sell For
30 Great Strategies for Sales Success
How to Create Coaching Time
The Eight Top Communication Dysfunctions (And, how to overcome them)
The ABCs of Selling
Daily Boost of Positivity
If your job bores you, either switch occupations or take steps to energize your approach. Like what? 1. Learn more and more about your field (you'll never meet a bored expert). 2. Confront hard challenges and overcome them (a proven perscription for boredom). 3. Throw yourself into projects you passionately believe in. 4. Set tough goals for yourself. In short, become too busy to be bored.
SUBSCRIBE TO THE DAILY BOOST OF POSITIVITY
White Papers, Reports, and Special Offers
Webinar
How to Use 7 Simple Quota Practices to Skyrocket Sales


Wednesday, October 7
11 am PT / 2 pm ET


Register Now
Upcoming Event
Sales 2.0 Leadership Conference


Monday, November 16


More Info
Daily Cartoon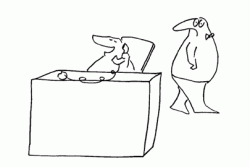 Incidentally, your majesty, we're supposed to use the prospect's first name. So, Your, about these magazines...