Selling Power Magazine – August 2015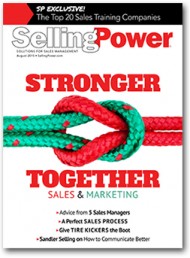 Features in this issue include:
Harness the Power of Sales and Marketing
Selling Power's 2015 List of the Top 20 Sales Training Companies
Advice from Five Sales Managers
A Perfect Sales Process
How to Leverage Social Connections for More Sales
Daily Boost of Positivity
Most people have things on their to-do list that they dread doing. Unfortunately, avoiding what you dread is too great a temptation. But if we decide to put off tomorrow what we can do today, or only focus on tasks we can do well, or indulge our egos, we will knock ourselves off the success track. Either strike temptation down or learn to use it strategically as a reward for devoting time to things we dread but must do to succeed.
SUBSCRIBE TO THE DAILY BOOST OF POSITIVITY
White Papers, Reports, and Special Offers
Webinar
Top 5 Tips to Get Better Results from Your Sales Training Efforts


Wednesday, September 16
11 am PT / 2 pm ET


Register Now
Upcoming Event
Sales 2.0 Leadership Conference


Monday, November 16


More Info