Selling Power Magazine – July 2015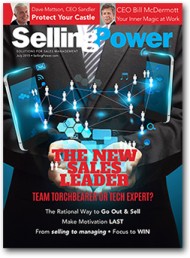 Features in this issue include:
Cover Story – The New Sales Leader
The Rational Way to Sell
SAP CEO Bill McDermott's "Inner Magic"
Jeffrey Gitomer on The New Sale
Make the Successful Transition from Selling to Managing
Create Value for Customers
How to Make Motivation LAST
Daily Boost of Positivity
Certain people seem to have a gift for rising above setbacks. They appear to glide from one stage of life to another, gathering steam and accolades as they go. But what do these people have in common? The secret is the way they look at failure. What some people think of as failure, these folks see as a natural part of a process. Setbacks are part of our evolution. Start thinking of so-called mistakes as a chance to reinvent yourself and move forward with curiosity and adventure.
SUBSCRIBE TO THE DAILY BOOST OF POSITIVITY
White Papers, Reports, and Special Offers
Webinar
Sales Force Effectiveness Initiatives - Impact Worth the Investment


Tuesday, August 25
10 am PT / 1 pm ET


Register Now
Daily Cartoon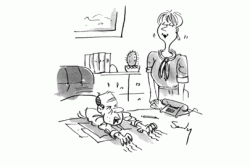 While I was getting my act together, getting my second wind and getting my ducks in a row, Ms. Callaway made the sale.