Selling Power Magazine – May 2015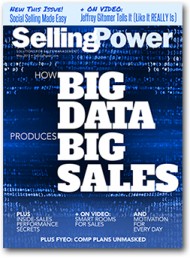 Features in this issue include:
How Big Data Produces Big Sales
Inside-Sales Performance Secrets
Motivation for Every Day
On Video: Jeffrey Gitomer Tells It (Like It REALLY Is)
New This Issue! Social Selling Made Easy
Talk Smart to Close
Daily Boost of Positivity
As a sales professional, how are you using social media to enhance your core selling activities? In a social-media world, sales managers fear that their reps will end up wasting time chasing the wrong customers down rabbit holes. Your goal on social media should be, first and foremost, to listen, and listen carefully. What are your customers saying about you and your competition? What are their concerns and worries? Jump in with an answer only if you have relevant, useful, and targeted information to share. Nothing will increase your chances of being ignored faster than an obvious sales pitch. In…
SUBSCRIBE TO THE DAILY BOOST OF POSITIVITY
White Papers, Reports, and Special Offers
Webinar
How to Accurately Qualify Opportunities


Wednesday, June 3
10 am PT / 1 pm ET


Register Now
Daily Cartoon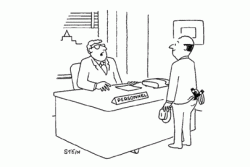 We're looking for a mature person with young ideas.