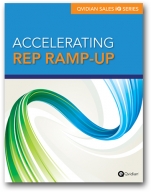 WHITE PAPER DOWNLOAD
Accelerating Rep Ramp-Up
Selling Power Magazine – July 2014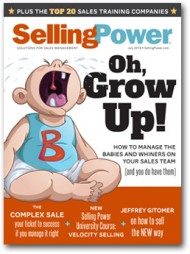 The July 2014 issue of
Selling Power
magazine is now available. If you are a subscriber,
login to read the July issue
. Not a subscriber?
Subscribe now
.
Features in this issue include:
Selling Power University – New sales training course
How to manage babies and whiners on your sales team.
Say good-bye to the old way of selling
Does your sales process need a jolt?
Daily Boost of Positivity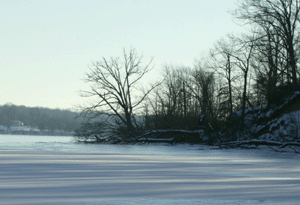 Big change is often accompanied by a sense of displacement. This can be disconcerting for sales professionals, especially if the change threatens to interrupt short-term gains. Maybe you're moving to a new job or territory, or a new style of management. Maybe the team has seen some new hires. Maybe corporate leadership has shifted. There is change you can control and change you can't control. If you feel yourself starting to become anxious or resistant, figure out which type of change you're dealing with. There is always something small but significant you can do to retain your sense of purpose and focus.
SUBSCRIBE TO THE DAILY BOOST OF POSITIVITY
White Papers, Reports, and Special Offers
Webinar
The End of Sales as We Know It


Tuesday, August 5
1 pm ET / 10 am PT


Register Now
Upcoming Event
Sales 2.0 Conference


September 18, 2014


More Info