Selling Power Magazine – February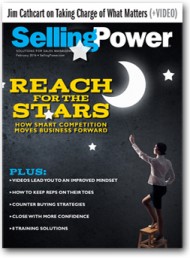 Features in this issue include:
Reach for the Stars: Get the Best from Everyone on the Team
Are Your Sales Reps Getting Complacent?
How to Counter Your Prospect's Buying Strategy
Close with MORE Confidence (Just follow these steps)
8 Sales-Training Corrections
Daily Boost of Positivity
According to Elihu Root, "Men do not fail; they give up trying." Author and philosopher Grenville Kleiser had another viewpoint: "The most successful people learn from their failures and use them as stepping stones to success." Success is built on failure. When the day's or week's calls are done, review your misses as well as your hits. Analyze what went wrong and what went right. If you're not failing often enough, then you're failing to try as frequently as you should.
SUBSCRIBE TO THE DAILY BOOST OF POSITIVITY
White Papers, Reports, and Special Offers
Webinar
Powerful Leadership Presentations: Build Commitment and Action


Wednesday, February 24
10 am PT / 1 pm ET


Register Now
Upcoming Event
Value Selling & Realization Summit


Monday, February 29 –
Tuesday, March 1


More Info
Daily Cartoon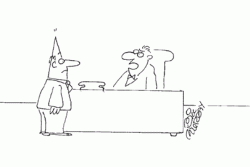 Come on, Stevens - get to the point.