Selling Power Magazine – June 2017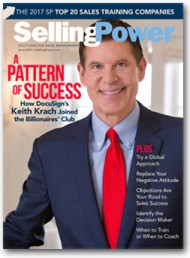 Features in this issue include:
A Pattern of Success: Featuring former DocuSign CEO Keith Krach
Learn How to Implement a Global Approach to Sales
How to Replace a Negative Attitude with Positive Energy
How Objections Represent Your Road to Sales Success
When to Train or When to Coach
Daily Boost of Positivity
From cell phones to voicemail, there's a lot of information to keep up with. Technology helps salespeople make great strides, but it can also disrupt and distract. Gadgets fuel expectations of instantaneous response. They invade personal time. The marvels of technology should help sales professionals stay connected, serve customers better, and produce more. Give yourself a little room. We're in a period of information overload. You'll never know it all. So control what you can. Control your attitude.
SUBSCRIBE TO THE DAILY BOOST OF POSITIVITY
White Papers, Reports, and Special Offers
Free Webinar
What Does the Future of Sales Look Like?


Thursday, July 13
2:00 pm ET


REGISTER NOW >
Daily Cartoon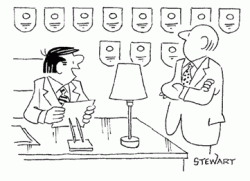 One more sale this month and more greatness will be thrust upon me.