Selling Power Magazine – July 2015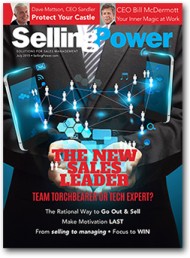 Features in this issue include:
Cover Story – The New Sales Leader
The Rational Way to Sell
SAP CEO Bill McDermott's "Inner Magic"
Jeffrey Gitomer on The New Sale
Make the Successful Transition from Selling to Managing
Create Value for Customers
How to Make Motivation LAST
Daily Boost of Positivity
Sometimes you need to address your emotions before you can clear the path to the next sale. Examine the way you feel right now. Is there anything negative you're holding on to that might affect the rest of your calls today? It could be a family problem, frustration with a client, or simply a bad mood. No matter what the source, take a moment to consider whether or not you can simply let it go, and choose to look at the issue from a positive perspective. If this is something that needs deeper attention, set it aside for now, but…
SUBSCRIBE TO THE DAILY BOOST OF POSITIVITY
White Papers, Reports, and Special Offers
Webinar
Sales Force Effectiveness Initiatives - Impact Worth the Investment


Tuesday, August 25
10 am PT / 1 pm ET


Register Now
Daily Cartoon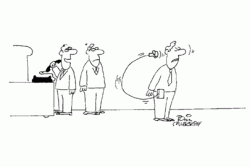 Oh yeah - the new beepers are gonna work out just great.