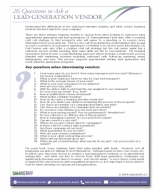 WHITE PAPER DOWNLOAD
26 Questions to Ask a Lead Generation Vendor
Selling Power Magazine – March 2014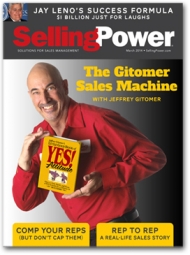 The March 2014 issue of
Selling Power
magazine in the Cloud is now available online, on your iPad, Android device or your Kindle.
Features in this issue include:
Jay Leno's Success Formula – $1 billion just for laughs
Seth Godin explains the 'More-Is-Better Fallacy' in an exclusive video
Jeffrey Gitomer's amazing techniques for increasing sales and profit
How to use incentives to get the best results
Daily Boost of Positivity
Stop whatever you're doing and delight in being alive! Sense the physical processes inside you, the good in people around you, and the beauty of the world you live in. Keep everything in context; smile and laugh (especially at yourself). Accept and embrace change. No matter what you want, whatever happens is going to happen. Be fit for success. Exercise and take care of yourself. Speed up your body action by moving to music, stretching, or jogging. Movement helps eliminate pent-up stress by aiding the removal of stress-produced chemicals that make you feel bad.
SUBSCRIBE TO THE DAILY BOOST OF POSITIVITY
White Papers, Reports, and Special Offers
Webinar
It's OK to be Selfish - How to Enable Reps to Succeed


Tuesday, March 18
2 pm ET / 11 am PT


Register Now
Upcoming Event
Workshop: Using Insights to Provide Value to Customers & Win More Deals


May 7, 2014


More Info
Daily Cartoon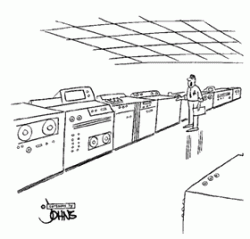 I still say this is a clothes dryer!