Selling Power Magazine – October 2015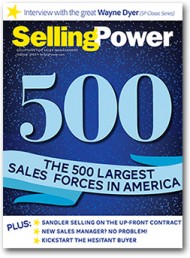 Features in this issue include:
Annual Feature: Selling Power 500 Largest Sales Forces in America
Interview with the great Wayne Dyer
New Sales Manager? No Problem!
Identify Decision Makers at New Accounts
Use Social Networks for Relationship Building
Daily Boost of Positivity
True friends are a sure refuge, according to Aristotle. Half the fun and joy of doing business is interacting with friends. How many customers can you honestly and truly identify as friends? Paul J. Meyer, a success motivation specialist, once said, "If you can show people your appreciation for their business with the parting words, 'Thanks, pal,' you're well ahead of the game." How can you convert a cool-and-casual customer relationship to friendship? Come across to the customer as an honestly caring individual. Don't act the part. Be it.
SUBSCRIBE TO THE DAILY BOOST OF POSITIVITY
White Papers, Reports, and Special Offers
Webinar
Multiple Channels, One Experience: Maximize Revenue and Customer Satisfaction


Thursday, October 22
9 am PT / 12 pm ET


Register Now
Upcoming Event
Sales 2.0 Leadership Conference


Monday, November 16


More Info