Selling Power Magazine – December 2014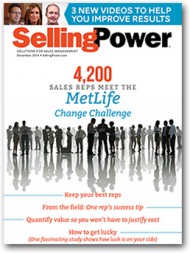 Features in this issue include:
4,200 Sales Reps Meet the MetLife Change Challenge
Lucky You: This study shows how luck really is on your side
Quantify value so you won't have to justify cost
Keep your best reps from jumping ship
Daily Boost of Positivity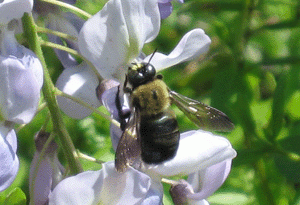 What keeps sales and marketing from playing nice together? Collaboration is not just a pipe dream anymore; sales and marketing must both be committed to getting on the same page. Have you agreed on the definition of a lead? Do you have a strategy to capture those specific kinds of leads? Between blogs, email campaigns, social analytics, user-generated content, and more, marketing has plenty of options to help sales find great opportunities. When sales and marketing work together, everyone wins. What are you doing to foster better collaboration and communication with marketing?
SUBSCRIBE TO THE DAILY BOOST OF POSITIVITY
White Papers, Reports, and Special Offers
Upcoming Event
Sales 2.0 Conference


Monday, March 16


More Info
Daily Cartoon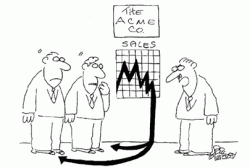 I think we know who's at fault for this - don't we?