Selling Power Magazine – October 2015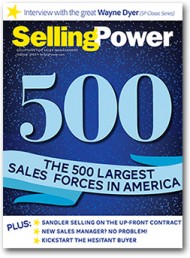 Features in this issue include:
Annual Feature: Selling Power 500 Largest Sales Forces in America
Interview with the great Wayne Dyer
New Sales Manager? No Problem!
Identify Decision Makers at New Accounts
Use Social Networks for Relationship Building
Daily Boost of Positivity
Focus on what it takes to succeed, not on why success is so difficult. Focus, not on the obstacle, but on action needed to overcome the obstacle. Focus on positive words – benefit, beauty, profit – not on negative words (e.g., mistake, poor, wrong). Focus on the reward that will be yours when you succeed.
SUBSCRIBE TO THE DAILY BOOST OF POSITIVITY
White Papers, Reports, and Special Offers
Webinar
Multiple Channels, One Experience: Maximize Revenue and Customer Satisfaction


Thursday, October 22
9 am PT / 12 pm ET


Register Now
Upcoming Event
Sales 2.0 Leadership Conference


Monday, November 16


More Info
Daily Cartoon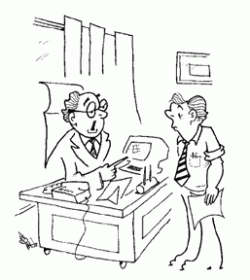 You can march to the beat of whatever drummer you choose...
Just remember...I'm the metronome.