Selling Power Magazine – August 2015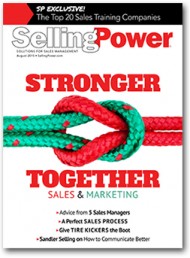 Features in this issue include:
Harness the Power of Sales and Marketing
Selling Power's 2015 List of the Top 20 Sales Training Companies
Advice from Five Sales Managers
A Perfect Sales Process
How to Leverage Social Connections for More Sales
Daily Boost of Positivity
You know that what you say to prospects can make or break your presentation, but what you say to yourself can be just as important. Self-talk affects your attitude, and your attitude affects sales performance. Are you aware of any tendencies to engage in negative self-talk, either to yourself or to others? Increase your awareness so that you stop talking down to yourself. Make a commitment to start sending yourself more positive and constructive messages.
SUBSCRIBE TO THE DAILY BOOST OF POSITIVITY
White Papers, Reports, and Special Offers
Webinar
Why Just-in-Time Learning is Your Best New Sales Weapon


Wednesday, August 12
11 am PT / 2 pm ET


Register Now
Daily Cartoon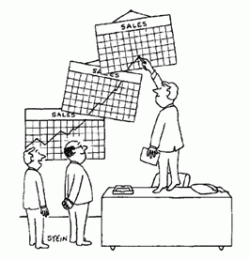 He's a terrific sales manager, but he's not very well organized.