Selling Power Magazine – November 2015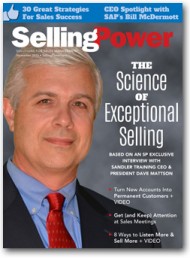 Features in this issue include:
The Science of Exceptional Selling
30 Great Strategies for Sales Success
Turn New Accounts into Permanent Customers
Get (and Keep) Attention at Sales Meetings
CEO Spotlight with SAP's Bill McDermott
8 Ways to Listen More & Sell More
Daily Boost of Positivity
Too often, salespeople are too quick to talk up the wonders of their terrific solutions. Before you start trumpeting the virtues of your product, service, or company, do your homework and diligently assess your prospect's unique circumstances. Great salespeople approach a customer or prospect's problem with the mind-set of a physician, methodically probing and analyzing symptoms before arriving at a diagnosis. Be curious, and be real. Let go of preconceived ideas and open yourself up by paying close attention to the needs of other people.
SUBSCRIBE TO THE DAILY BOOST OF POSITIVITY
White Papers, Reports, and Special Offers
Webinar
Five Key Steps for Building a Top Sales Team in 2016


Wednesday, December 16
11 am PT / 2 pm ET


Register Now
Upcoming Event
Sales 2.0 Conference


Monday, July 18


More Info
Daily Cartoon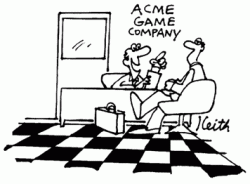 No, I don't think I'll sign yet. Your move.