Selling Power Magazine – August 2015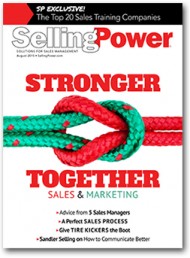 Features in this issue include:
Harness the Power of Sales and Marketing
Selling Power's 2015 List of the Top 20 Sales Training Companies
Advice from Five Sales Managers
A Perfect Sales Process
How to Leverage Social Connections for More Sales
Daily Boost of Positivity
Is the competition getting you down? Make a chart rating your company and its products against prime competitors. Keep a copy with you in case a prospect questions how your company stacks up. Cash in on your strengths whenever possible. Compensate for any weakness by offering extra service. Create a bond with customers by becoming a resource. Assess your competitive ranking account by account with specifics in mind.
SUBSCRIBE TO THE DAILY BOOST OF POSITIVITY
White Papers, Reports, and Special Offers
Webinar
Sales Content: The New King


Tuesday, September 29
10 am PT / 1 pm ET


Register Now
Upcoming Event
Sales 2.0 Leadership Conference


Monday, November 16


More Info
Daily Cartoon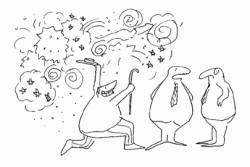 This, I assume, is the close...