Selling Power Magazine – July 2015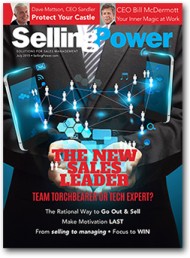 Features in this issue include:
Cover Story – The New Sales Leader
The Rational Way to Sell
SAP CEO Bill McDermott's "Inner Magic"
Jeffrey Gitomer on The New Sale
Make the Successful Transition from Selling to Managing
Create Value for Customers
How to Make Motivation LAST
Daily Boost of Positivity
The conditions necessary to foster personal accountability in the workplace are similar to those needed in a family or classroom: Develop a climate of trust, openness, good humor, and respect; then, with honesty and respect, inspect what you expect. Make sure that subordinates know you hold yourself to the same standards of ethics and diligence that you expect from them. It may be easier said than done. Openness and clarity of mind will be required. This stresses both you and the system, but courageous individuals manage to tread these waters every day.
SUBSCRIBE TO THE DAILY BOOST OF POSITIVITY
White Papers, Reports, and Special Offers
Webinar
How to Unclog Your Sales Pipeline


Wednesday, July 15
11 am PT / 2 pm ET


Register Now
Daily Cartoon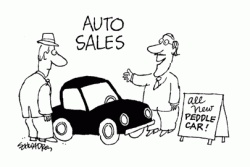 This new peddle car is remarkably easy to peddle.
Why, I've sold 6 in just one day!