Selling Power Magazine – August 2015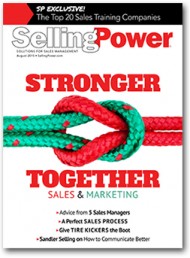 Features in this issue include:
Harness the Power of Sales and Marketing
Selling Power's 2015 List of the Top 20 Sales Training Companies
Advice from Five Sales Managers
A Perfect Sales Process
How to Leverage Social Connections for More Sales
Daily Boost of Positivity
Every successful person needs to learn to balance priorities. Money lost or spent can be regained, but squandered time is not retrievable. You can kill time – and your career – with extended phone calls, lunches and breaks, late starts, and early quits. Misguided priorities (calling on prospects and customers whose potential you assume may be good and short-changing others checked out as probably profitable) also waste time. Use your time wisely and make every hour count.
SUBSCRIBE TO THE DAILY BOOST OF POSITIVITY
White Papers, Reports, and Special Offers
Webinar
Top 5 Tips to Get Better Results from Your Sales Training Efforts


Wednesday, September 16
11 am PT / 2 pm ET


Register Now
Upcoming Event
Sales 2.0 Leadership Conference


Monday, November 16


More Info
Daily Cartoon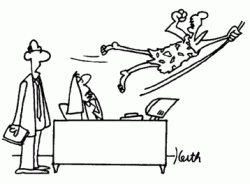 Miss Lindvall, be careful who you lend my motivational tapes to.