Selling Power Magazine – January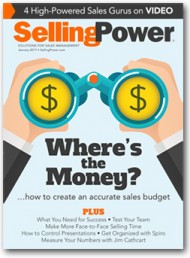 Features in this issue include:
How to Create an Accurate Sales Budget
Two Must-Haves for Success
Rate Your Salespeople's Selling Skills
3 Ways to Make More Time for Face-to-Face Selling
How to Control Sales Presentations
Daily Boost of Positivity
What do customers really want? Listen to what they complain about. This is often the information salespeople want to hear least, but it can actually be the key to turning the purchasing crank. Make a habit of asking your customers if there is anything about your product or service with which they're not completely satisfied. The response to this question frequently touches off a complaint or two, minor or major, that zero in on what the customer needs or wants.
SUBSCRIBE TO THE DAILY BOOST OF POSITIVITY
White Papers, Reports, and Special Offers
Free Webinar
Resolutions to Achieve Peak Sales Performance in 2017


Wednesday, February 8
2:00 pm ET


REGISTER NOW >
Daily Cartoon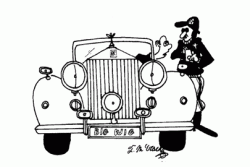 Pardon me, do you have any grey poupon?