Selling Power Magazine – July 2015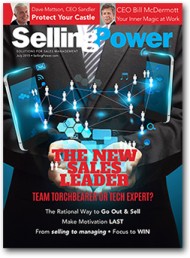 Features in this issue include:
Cover Story – The New Sales Leader
The Rational Way to Sell
SAP CEO Bill McDermott's "Inner Magic"
Jeffrey Gitomer on The New Sale
Make the Successful Transition from Selling to Managing
Create Value for Customers
How to Make Motivation LAST
Daily Boost of Positivity
Each of us has experienced disappointment, hurt, and disillusionment. No one is immune to these. The goal is not to let these accumulate to the point where they slow you down. That's what makes the difference between success and failure. It is readily possible for you to take the challenges of life and transform them into a unified and positive outlook that fuels your purpose. All your experiences – crises, setbacks, promotions, closed deals, surprises – are part of what makes you a survivor and striver. Life is a journey, and we all have a purpose. Don't let negative illusions…
SUBSCRIBE TO THE DAILY BOOST OF POSITIVITY
White Papers, Reports, and Special Offers
Webinar
Why Just-in-Time Learning is Your Best New Sales Weapon


Wednesday, August 12
11 am PT / 2 pm ET


Register Now
Daily Cartoon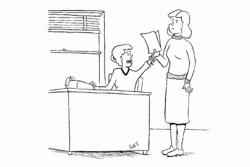 I counted 23 federal, state and local taxes we pay, and that's called FREE enterprise?