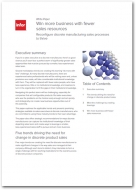 WHITE PAPER DOWNLOAD
Win More Business With Fewer Sales Resources
Selling Power Magazine – April 2014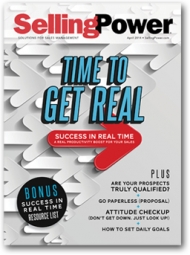 The April 2014 issue of
Selling Power
magazine is now available. If you are a subscriber,
login to read the April issue
. Not a subscriber?
Subscribe now
.
Features in this issue include:
Success in Real Time: learn how new technologies can create success for your sales team.
What to do when a prospect says, "Send me more information."
Train Sales Reps Like Athletes – to Win!
How's your attitude? Take this checkup.
Daily Boost of Positivity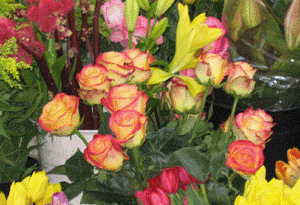 Dr. Norman Vincent Peale used to compare negative thoughts to birds flying overhead. "We can't keep the birds from flying over our heads," he said. "But we can prevent them from building a nest in our hair." We all have the power to choose what kinds of thoughts take up space in our mind. The fact that you sometimes produce negative thoughts doesn't mean you have to accept them unconditionally.
SUBSCRIBE TO THE DAILY BOOST OF POSITIVITY
White Papers, Reports, and Special Offers
Webinar
Motivating a Multi-generational Sales Force


Tuesday, April 22
1 pm ET / 10 am PT


Register Now
Upcoming Event
Workshop: Using Insights to Provide Value to Customers & Win More Deals


July 15, 2014


More Info
Daily Cartoon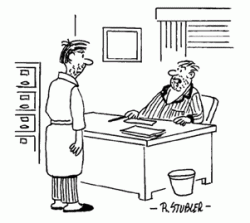 No need to apologize, Harris - I overslept myself.