Selling Power Magazine – May 2015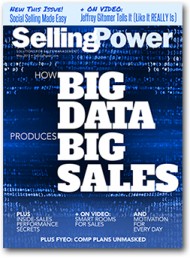 Features in this issue include:
How Big Data Produces Big Sales
Inside-Sales Performance Secrets
Motivation for Every Day
On Video: Jeffrey Gitomer Tells It (Like It REALLY Is)
New This Issue! Social Selling Made Easy
Talk Smart to Close
Daily Boost of Positivity
There's nothing worse than making a problem worse with negative energy. When you face a tough situation, remind yourself that everything is fleeting. You've been scared, tired, angry, frustrated, and disappointed before, and guess what? You got over it. Don't make things more difficult on yourself by wallowing in negativity. The more time you spend in a negative state, the harder it is for positive energy to bloom and restore balance. There is nothing to gain by keeping negative feelings around. Find a way to resolve those feelings quickly, and your problems will soon be replaced by solutions and improvements.
SUBSCRIBE TO THE DAILY BOOST OF POSITIVITY
White Papers, Reports, and Special Offers
Webinar
How to Accurately Qualify Opportunities


Wednesday, June 3
10 am PT / 1 pm ET


Register Now
Daily Cartoon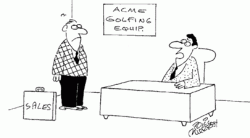 About this quarter's sales, Benson - you failed to make par.