Selling Power Magazine – June 2015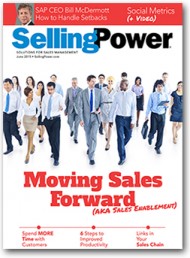 Features in this issue include:
How Sales Enablement Moves Sales Forward
Eliminate the Gap between Sales & Marketing
Spend More Time with Customers
Six Steps to Better Productivity
Jeffrey Gitomer on Happiness
Daily Boost of Positivity
Here are some strategic self-evaluation questions to which successful people always know the answers: 1) What is life's purpose for you? 2) What do you want out of life? 3) What makes you happy? 4) Can you overcome the competition? 5) How can you prepare yourself so that your goals prevail? If you answer these questions, pretty soon a clear picture of what you really want and are good at will begin to emerge. Then you'll be able to choose where you will go with your life and how you will get there.
SUBSCRIBE TO THE DAILY BOOST OF POSITIVITY
White Papers, Reports, and Special Offers
Webinar
How to Unclog Your Sales Pipeline


Wednesday, July 15
11 am PT / 2 pm ET


Register Now
Daily Cartoon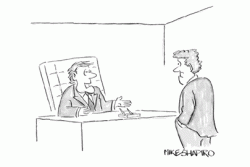 No one is doubting that you have a promising future,
but keep in mind, we're firing you for your past.