Selling Power Magazine – December 2014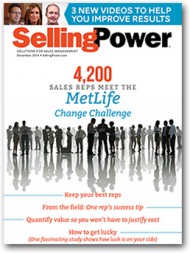 Features in this issue include:
4,200 Sales Reps Meet the MetLife Change Challenge
Lucky You: This study shows how luck really is on your side
Quantify value so you won't have to justify cost
Keep your best reps from jumping ship
Daily Boost of Positivity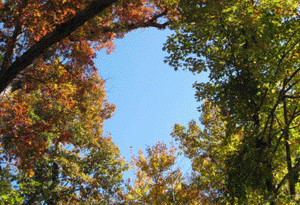 According to
Jacob Morgan
, modern-day selling has a lot in common with the late Bruce Lee. That's right: Bruce Lee. How? One of Bruce Lee's approaches toward martial arts was the idea of fighting without fighting, which can be adapted to the selling world as "selling without selling." Pretend you had to sell to Bruce Lee, but if he felt like you were pitching or selling to him, he would get to kick you in the head. All of a sudden your approach toward selling would be different. Now, instead of trying to sell, you will try to connect and build a relationship.…
SUBSCRIBE TO THE DAILY BOOST OF POSITIVITY
White Papers, Reports, and Special Offers
Upcoming Event
Sales 2.0 Conference


Monday, March 16


More Info
Daily Cartoon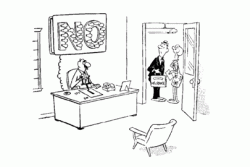 He's not in a very receptive mood today.