Selling Power Magazine – August 2015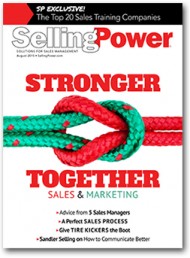 Features in this issue include:
Harness the Power of Sales and Marketing
Selling Power's 2015 List of the Top 20 Sales Training Companies
Advice from Five Sales Managers
A Perfect Sales Process
How to Leverage Social Connections for More Sales
Daily Boost of Positivity
Achieve your true potential. Take into account your best possibilities and opportunities and your ability to execute on them. You know your strengths and weaknesses. Build your potential plan by relying on your strengths. Where you sense weakness, plan ahead to minimize it. Be sure you understand your plan thoroughly. Get the technical training you need to respond to possible challenges quickly and effectively. Finally, rely on your support network for help whenever you need it. In these ways, you'll reach your true potential.
SUBSCRIBE TO THE DAILY BOOST OF POSITIVITY
White Papers, Reports, and Special Offers
Webinar
Top 5 Tips to Get Better Results from Your Sales Training Efforts


Wednesday, September 16
11 am PT / 2 pm ET


Register Now
Upcoming Event
Sales 2.0 Leadership Conference


Monday, November 16


More Info
Daily Cartoon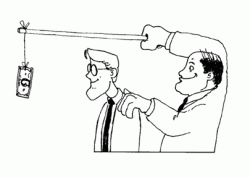 You gotta go with what works.