Selling Power Magazine – December 2014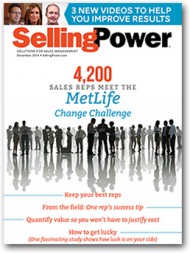 Features in this issue include:
4,200 Sales Reps Meet the MetLife Change Challenge
Lucky You: This study shows how luck really is on your side
Quantify value so you won't have to justify cost
Keep your best reps from jumping ship
Daily Boost of Positivity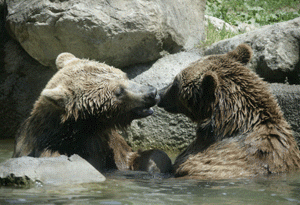 In any contest, there are winners and losers – and salespeople hate to lose. But remember the old saying: it's how you play the game that counts. In any sales career, there will be highs and lows, peaks and valleys. Just because you're on top one day doesn't mean you'll always be there. If life is a contest, that means there will always be another way to push yourself forward. The outcome of a contest doesn't matter as much as feeling every day like you're a winner.
SUBSCRIBE TO THE DAILY BOOST OF POSITIVITY
White Papers, Reports, and Special Offers
Upcoming Event
Sales 2.0 Conference


Monday, March 16


More Info
Daily Cartoon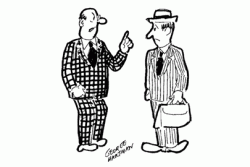 Yes, I got an order for you, Hawkwell - get out!