Selling Power Magazine – March 2015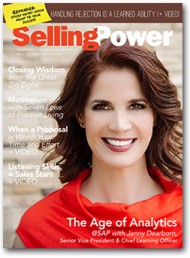 Features in this issue include:
The Age of Analytics – Insight from Jenny Dearborn, SVP & Chief Learning Officer at SAP
Closing wisdom from the legendary Zig Ziglar
Motivation: 7 Laws of Positive Living
Using Data to Predict Customer Behavior
Daily Boost of Positivity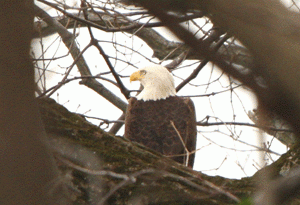 Salespeople are great at brushing off rejections. While it's true that every no leads you closer to a yes, there's a fine line between healthy optimism and denial. Don't ignore real frustration or try to put on a happy face if you really feel down. Constantly suppressing negative feelings often leads to a short temper. Instead of lying to yourself, acknowledge the lost opportunities and the fact that they don't feel good – and then continue working.
SUBSCRIBE TO THE DAILY BOOST OF POSITIVITY
White Papers, Reports, and Special Offers
Webinar
How to Equip Your Sales Force to Have Smarter Business Conversations


Thursday, April 9
11 am PT / 2 pm ET


Register Now
Upcoming Event
Sales 2.0 Conference


Monday, March 16


More Info
Daily Cartoon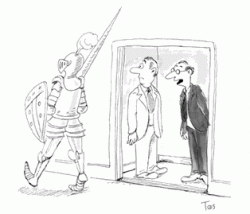 These power lunches are getting out of hand.