Selling Power Magazine – October 2014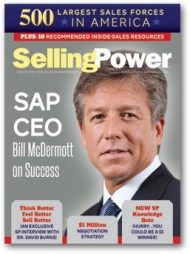 Features in this issue include:
The SP 500 - The 500 Largest Sales Forces in America
Use this $1 million sales-negotiation strategy on your next call
Think better, feel better, sell better (exclusive SP interview with Dr. David Burns)
10 Inside Sales resources to boost your sales team's productivity
Daily Boost of Positivity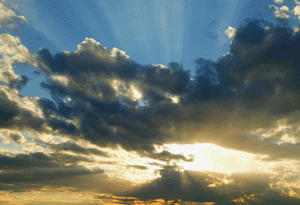 Picture a batter stepping up to the plate. Now picture a swing and a miss. The batter glances nervously at his manager in the dugout, then at his teammates waiting on the bases. As the pitcher winds up again, all the batter can think about is how he blew it, how stupid he was to choke on that last swing. What do you think are the odds he'll miss the next one, too? The lesson: pessimism and despair are contagious. Fill your mind with optimistic expectations, even if you mess up. Optimistic expectations are the most powerful indicator of sales achievement.
SUBSCRIBE TO THE DAILY BOOST OF POSITIVITY
White Papers, Reports, and Special Offers
Webinar
Sales 2.5: The New Rules of Cold Calling


Thursday, November 6
1 ET / 10 am PT


Register Now
Upcoming Event
Sales 2.0 Conference


Monday, March 16


More Info