Selling Power Magazine – November 2015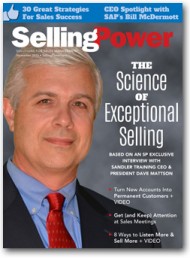 Features in this issue include:
The Science of Exceptional Selling
30 Great Strategies for Sales Success
Turn New Accounts into Permanent Customers
Get (and Keep) Attention at Sales Meetings
CEO Spotlight with SAP's Bill McDermott
8 Ways to Listen More & Sell More
Daily Boost of Positivity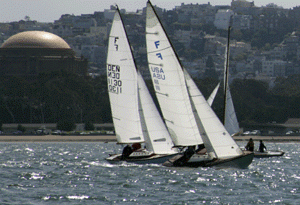 This will give you a sense of tremendous accomplishment and provide momentum for finishing your tasks: 1) Make your final hours at work enjoyable by saving for last the tasks you find pleasant. 2) Remember to go task by task. If you finish one task at a time, you will avoid feeling fragmented and overburdened. It is also easier to see where you're going with a job when you give it your full concentration. 3) Leave some time between activities to minimize overlapping.
SUBSCRIBE TO THE DAILY BOOST OF POSITIVITY
White Papers, Reports, and Special Offers
Webinar
Five Key Steps for Building a Top Sales Team in 2016


Wednesday, December 16
11 am PT / 2 pm ET


Register Now
Daily Cartoon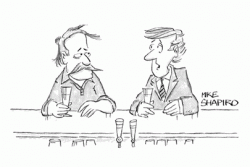 I knew it wouldn't be a good day when I saw
I was on the cover of You're Fired magazine.