Selling Power Magazine – May 2015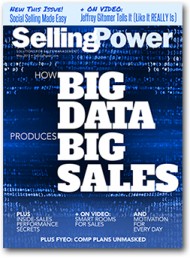 Features in this issue include:
How Big Data Produces Big Sales
Inside-Sales Performance Secrets
Motivation for Every Day
On Video: Jeffrey Gitomer Tells It (Like It REALLY Is)
New This Issue! Social Selling Made Easy
Talk Smart to Close
Daily Boost of Positivity
It is important for every person to practice small indulgences every day. This is why we take vacations, watch funny movies, sing in the shower, and order dessert. What are some of the ways you relax, laugh, and enjoy life? How often do you indulge in these things? Without small and routine outlets for pleasure, stress and worry build up and leave us vulnerable to indulging in bloated and damaging excesses. A daily and healthy outlet helps everyone stay balanced and on course.
SUBSCRIBE TO THE DAILY BOOST OF POSITIVITY
White Papers, Reports, and Special Offers
Webinar
How to Accurately Qualify Opportunities


Wednesday, June 3
10 am PT / 1 pm ET


Register Now
Daily Cartoon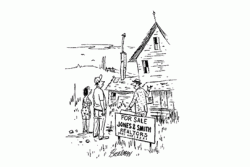 Look on the bright side of it...If a highway ever comes through, you won't mind giving it up.