Selling Power Magazine – August 2014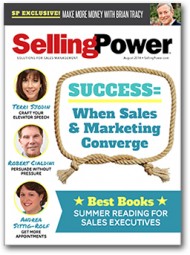 Features in this issue include:
When sales & marketing converge… Successful Sales Results!
Sales Negotiation in Depth
Strategies for Following Up with Existing Accounts
Selling Power University – do-it-yourself online sales training modules
Daily Boost of Positivity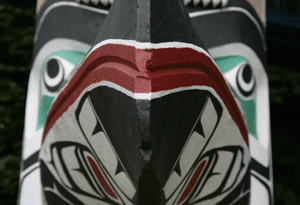 Have you ever had one of those days when you get caught in the middle of conflicting emotions? On one hand, you want to take a certain action. On another hand, the opposite action seems like the ideal choice. If you find confusion to be the reigning principle of your work or personal life, you need to take steps to gain clarity. Seek the advice of your mentor, make a pros-and-cons list, or simply pick one action and follow it through to the end. Don't get caught up in a confused state for too long. Find ways to maintain a consistent flow to stay on…
SUBSCRIBE TO THE DAILY BOOST OF POSITIVITY
White Papers, Reports, and Special Offers
Webinar
5 Pillars of Mobile Sales Enablement


Tuesday, September 9
1 pm ET / 10 am PT


Register Now
Upcoming Event
Sales 2.0 Conference


September 18, 2014


More Info
Daily Cartoon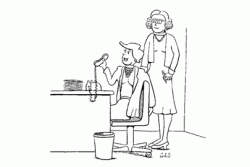 If answering machines would place orders,
I'd be having a great month!