Selling Power Magazine – September 2014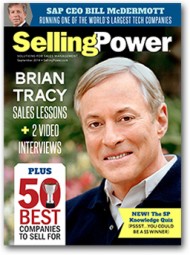 Features in this issue include:
Annual ranking of the 50 Best Companies to Sell For
SAP's CEO Bill McDermott on leadership, motivation, and sales skills
Legendary trainer and motivator Brian Tracy shares life and sales lessons
How to avoid presentation overload
Daily Boost of Positivity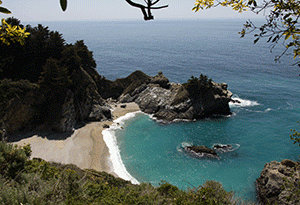 Remember that not everyone shares your special skills and talents. Sometimes we downplay our achievements because they come naturally to us, or we fear people will call us boastful. When others comment on your excellent performance, don't diminish your self worth by saying, "Anyone could have done the same," or "It was really nothing." Your accomplishments are a true expression of yourself, so accept compliments gracefully.
SUBSCRIBE TO THE DAILY BOOST OF POSITIVITY
White Papers, Reports, and Special Offers
Webinar
Prepare Sales for the Year 2020


Thursday, October 2
2 pm ET / 11 am PT


Register Now
Upcoming Event
Sales 2.0 Conference


September 18, 2014


More Info
Daily Cartoon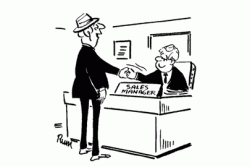 I've heard several rumors that you're setting the quotas too high - keep up the good work.