Selling Power Magazine – July 2015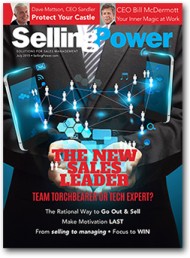 Features in this issue include:
Cover Story – The New Sales Leader
The Rational Way to Sell
SAP CEO Bill McDermott's "Inner Magic"
Jeffrey Gitomer on The New Sale
Make the Successful Transition from Selling to Managing
Create Value for Customers
How to Make Motivation LAST
Daily Boost of Positivity
Dr. Wayne Dyer once said that in order to be good at selling, you have to first fall in love with what you do. "You don't sell your product, because every product in the world has some validity, and there is another product out there that will satisfy the customer's need just as well." What quality do successful salespeople have that others don't? According to Dyer, the answer is serenity. They work for the customer's quota, not the quota their companies set. They're always asking, "How can I serve you?" Whether making a presentation, following up with customers, prospecting, networking,…
SUBSCRIBE TO THE DAILY BOOST OF POSITIVITY
White Papers, Reports, and Special Offers
Webinar
Sales Force Effectiveness Initiatives - Impact Worth the Investment


Tuesday, August 25
10 am PT / 1 pm ET


Register Now
Daily Cartoon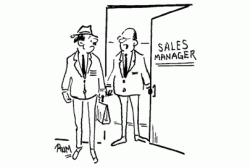 Every minute of every hour of every day someone out there is making a sale - how come it isn't you?