Selling Power Magazine – February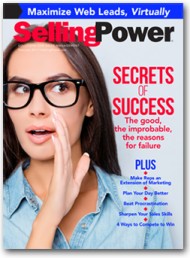 Features in this issue include:
Secrets of Success: How to Turn Your Dreams into Reality
Why Sales Productivity is Not Enough
4 Ways to Become a Better Competitor
Time to Change: How to Beat the Procrastination Bug
3 Ways to Sharpen Existing Sales Skills
Daily Boost of Positivity
Treat yourself with the compassion and kindness that you'd show to others. Suppose things were going badly for a friend or colleague. You wouldn't say, "You're right, Joe. You really are a loser. Things look pretty hopeless for you." So if you wouldn't do that to a suffering friend, why do you berate yourself? If your mind is filled with negative self-talk – "I'm no good," "I'm a failure," or "I'll flub this call like all the others" – stop those thoughts in their tracks. Next time a self-deprecating thought…
SUBSCRIBE TO THE DAILY BOOST OF POSITIVITY
White Papers, Reports, and Special Offers
Free Webinar
Using Analytics to Drive Sales Behavior and Hit Quota


Tuesday, March 21
1:00 pm ET


REGISTER NOW >
Daily Cartoon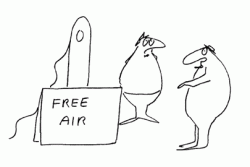 Frankly, if you're encountering price resistance with this item, you aren't much of a salesman.