Selling Power Magazine – May 2015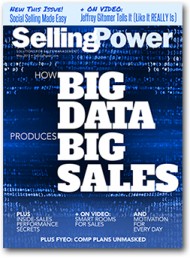 Features in this issue include:
How Big Data Produces Big Sales
Inside-Sales Performance Secrets
Motivation for Every Day
On Video: Jeffrey Gitomer Tells It (Like It REALLY Is)
New This Issue! Social Selling Made Easy
Talk Smart to Close
Daily Boost of Positivity
Sales and marketing teams usually excel at the courtship stage of customer relationships. That's the time they get to trumpet new features, designs, and promotions. But flash won't help strengthen a relationship with a customer who experiences problems at other stages, such as signing, delivery, and implementation. As author Lior Arussy says, not every customer touch point needs dazzle: "Sometimes the customer says, 'Just make it work.'"
SUBSCRIBE TO THE DAILY BOOST OF POSITIVITY
White Papers, Reports, and Special Offers
Webinar
How to Accurately Qualify Opportunities


Wednesday, June 3
10 am PT / 1 pm ET


Register Now
Daily Cartoon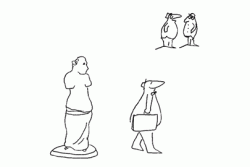 Pretty darn good salesman. You'd think she'd be the last prospect to order a pair of gloves.