Selling Power Magazine – October 2015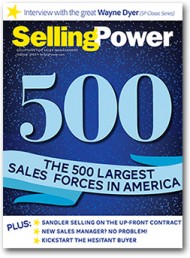 Features in this issue include:
Annual Feature: Selling Power 500 Largest Sales Forces in America
Interview with the great Wayne Dyer
New Sales Manager? No Problem!
Identify Decision Makers at New Accounts
Use Social Networks for Relationship Building
Daily Boost of Positivity
There's no such thing as a sure-thing account. Every customer, regardless of affiliation or social or family ties, must be served professionally in every regard to ensure long-time allegiance. Business is business, and whatever the relationship, no businessperson will stand for unbusinesslike performance. A sales rep must work as hard as possible for every customer to ensure continuing relationships. How hard will you work today?
SUBSCRIBE TO THE DAILY BOOST OF POSITIVITY
White Papers, Reports, and Special Offers
Webinar
Multiple Channels, One Experience: Maximize Revenue and Customer Satisfaction


Thursday, October 22
9 am PT / 12 pm ET


Register Now
Upcoming Event
Sales 2.0 Leadership Conference


Monday, November 16


More Info
Daily Cartoon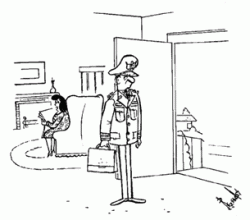 How soon can you be started?