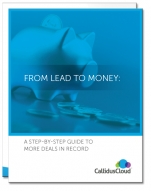 WHITE PAPER DOWNLOAD
How to Win More Deals in Record Time
Selling Power Magazine – July 2014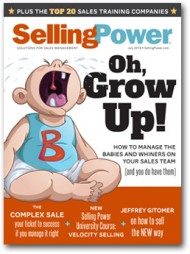 The July 2014 issue of
Selling Power
magazine is now available. If you are a subscriber,
login to read the July issue
. Not a subscriber?
Subscribe now
.
Features in this issue include:
Selling Power University – New sales training course
How to manage babies and whiners on your sales team.
Say good-bye to the old way of selling
Does your sales process need a jolt?
Daily Boost of Positivity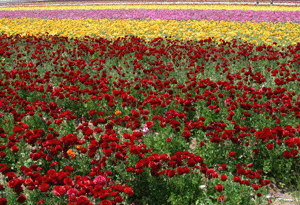 The words we use are important to our state of mind. What is the ratio of positive to negative words you utter per day? What about the people around you? Such words as "can't," "hate," "impossible," "dumb," "stupid," and "worthless" make up the vocabulary of an essentially negative personality. The more you use such words, the greater the chance they will weigh you down. Pay attention to the words you use today. Try saying, "great," "terrific," "love," "can," and "fantastic," instead of words that cloud your mind. Speak with positivity, and you will reap a positive attitude.
SUBSCRIBE TO THE DAILY BOOST OF POSITIVITY
White Papers, Reports, and Special Offers
Webinar
The End of Sales as We Know It


Tuesday, August 5
1 pm ET / 10 am PT


Register Now
Upcoming Event
Sales 2.0 Conference


September 18, 2014


More Info
Daily Cartoon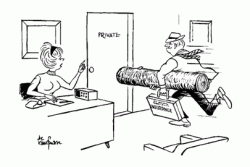 Do you have an appointment?