Selling Power Magazine – October 2015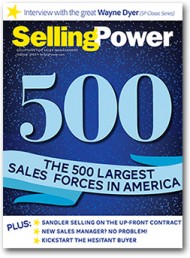 Features in this issue include:
Annual Feature: Selling Power 500 Largest Sales Forces in America
Interview with the great Wayne Dyer
New Sales Manager? No Problem!
Identify Decision Makers at New Accounts
Use Social Networks for Relationship Building
Daily Boost of Positivity
What distinguishes top-earning sales professionals from their run-of-the-mill competitors? The ability to connect with customers and stay connected. They act professionally in word, deed, and appearance. They probe and help meet challenges the buyer faces. They put themselves in the customer's shoes. They value the customer's time and don't waste it. They devote as much time and effort to staying connected as they did to making the connection at the outset.
SUBSCRIBE TO THE DAILY BOOST OF POSITIVITY
White Papers, Reports, and Special Offers
Webinar
Multiple Channels, One Experience: Maximize Revenue and Customer Satisfaction


Thursday, October 22
9 am PT / 12 pm ET


Register Now
Upcoming Event
Sales 2.0 Leadership Conference


Monday, November 16


More Info