Selling Power Magazine – September 2015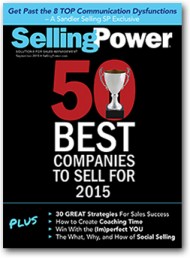 Features in this issue include:
Selling Power's 2015 list of the 50 Best Companies to Sell For
30 Great Strategies for Sales Success
How to Create Coaching Time
The Eight Top Communication Dysfunctions (And, how to overcome them)
The ABCs of Selling
Daily Boost of Positivity
Henry James once said, "Attitude is more important than aptitude." A productive mental attitude implies a strong unfailing conviction that your company's products and services are absolutely superior and second to none. It implies that you have admiration, respect, and commitment to your organization, employer, and associates. It also implies a burning desire to enhance the company's image and profitability in every way possible. Do these attributes apply to you? If so, you're in the right job at the right time.
SUBSCRIBE TO THE DAILY BOOST OF POSITIVITY
White Papers, Reports, and Special Offers
Webinar
Multiple Channels, One Experience. Using CPQ-Powered eCommerce to Maximize Revenue and Customer Satisfaction


Thursday, October 22
9 am PT / 12 pm ET


Register Now
Upcoming Event
Sales 2.0 Leadership Conference


Monday, November 16


More Info
Daily Cartoon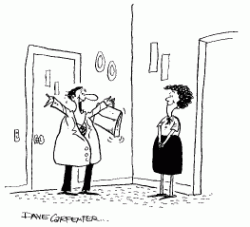 Good news, dear. I've been promoted from J.B.'s whipping boy to his sounding board.