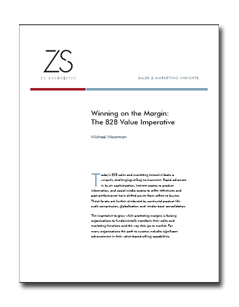 Article Download:
Winning on the Margin: the B2B Value Imperative
Value-based selling (VBS) is not a new idea. It dates back more than 20 years. VBS is simple in concept: Win and grow customers through product, service and program offerings whose total value relative to price exceeds that of alternatives. By demonstrating greater value, the seller is able to win at a price premium.

The reality has proven more difficult. VBS requires a challenging shift in culture, strategy, operations and execution capability - a fundamental sales force transformation.

This article provides an introduction to the critical components that must be addressed to build world-class VBS capabilities. The insights shared derive from extensive VBS initiatives with more than 40 companies across 13 industries in North America, Europe, and Asia.