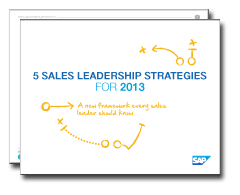 e-Book:
5 Sales Leadership Strategies for 2013
A framework every sales leader should know
What activities should your sales reps spend their time on to produce the best results? Do you know if reps are prioritizing the most important activities? Although existing sales methodologies provide a process and framework, they don't address the non-structured activities like these that consume a large chunk of a salesperson's day.
Read this e-Book and learn tactics that will help your sales team to:
Eliminate wasted time and focus on high-priority activities
Become more informed than competitors and make engagement more impactful
Be more prepared for every sales call (and close)