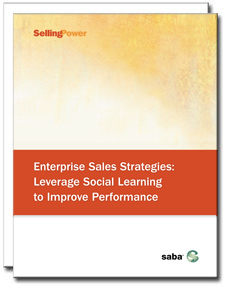 Special Report:
Enterprise Sales Strategies: Leverage Social Learning to Improve Performance
When a company harnesses the power of social media to capture and relate institutional knowledge, "social learning" is the result. This report shows how sales leaders can use social learning to:
Give reps the ability to quickly share information vital to closing deals.
Motivate top performers to reveal their winning methodologies.
Reinforce selling skills and product training.
All insights are based on a recent Selling Power Webinar: "Get Better Results with a Social Learning Strategy."