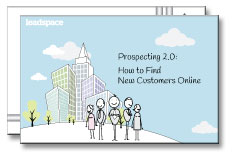 White Paper:
Prospecting 2.0: How to Find New Customers Online
The information you need to make your next big sale is online — you just need to know where to find it. With the right approach, you can conquer the digital space and fill your pipeline with new and exciting prospects.
Download this free white paper and get practical and actionable advice on how you can
Dig deeper and faster to find the information you need.
Maximize your return on social networking activity.
Keep tabs on the competition.
Generate content that attracts quality leads.