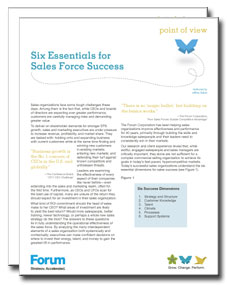 WHITE PAPER:
Six Essentials for Sales Force Success
Even though skillful, engaged salespeople and sales managers are critical to a company's success, they're not sufficient for a complex commercial selling organization to achieve its goals in today's fast-paced, hypercompetitive markets.
Read this white paper and learn the
6 essentials of sales force success
, including how to:
Establish and communicate a clear sales strategy.
Understand current and prospective customer needs.
Find, retain, and grow sales talent.
Define and follow 4 core sales processes, and more.