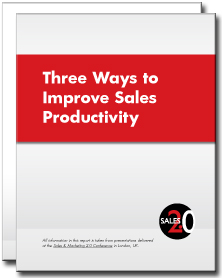 REPORT:
Three Ways to Improve Sales Productivity
What are competitive sales leaders doing to create more productive and effective sales forces? Download this report and discover insights shared by speakers who presented at the Sales & Marketing 2.0 Conference.
The report reveals
Improvements that will reduce commissions-related errors,
The latest methods to motivate reps and increase their productivity,
How social media can help you build a winning sales team.