Selling Power Magazine – February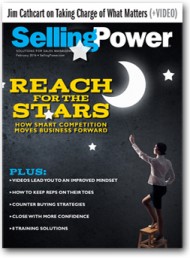 Features in this issue include:
Reach for the Stars: Get the Best from Everyone on the Team
Are Your Sales Reps Getting Complacent?
How to Counter Your Prospect's Buying Strategy
Close with MORE Confidence (Just follow these steps)
8 Sales-Training Corrections
Daily Boost of Positivity
When a deal suddenly falls through, don't get angry or indignant. If the ship is half sunk, blowing off steam will sink it completely. Keep your cool. Remember, you have the right to ask questions. Was there anything wrong with the contract? Were there doubts about the product, service, or you? If there are wrinkles, project confidence that you can address them. Sometimes canceled means just that. But with the right attitude, you can sometimes earn a second chance.
SUBSCRIBE TO THE DAILY BOOST OF POSITIVITY
White Papers, Reports, and Special Offers
Webinar
6 Elements of a Wildly Successful, Sustainable Sales Training Program


Tuesday, March 8
11 am PT / 2 pm ET


Register Now
Upcoming Event
Sales 2.0 Conference, Boston


Monday, May 2


More Info
Daily Cartoon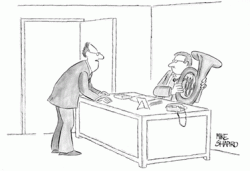 For the last time, Middleton, if you like to hear music while you work, GET A WALKMAN!