Selling Power Magazine – July 2015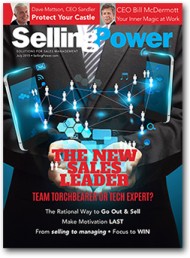 Features in this issue include:
Cover Story – The New Sales Leader
The Rational Way to Sell
SAP CEO Bill McDermott's "Inner Magic"
Jeffrey Gitomer on The New Sale
Make the Successful Transition from Selling to Managing
Create Value for Customers
How to Make Motivation LAST
Daily Boost of Positivity
Purposeful storytelling is the ultimate tool for closing the sale. Stories are game changers, because they engage a listener's emotions. Typically, emotion, not logic, causes people to act. Stories resonate within us, which is precisely why people are far more likely to remember information embedded within a story than information that was presented to them in facts or figures. If you tell a story with authentic emotion, people will respond.
SUBSCRIBE TO THE DAILY BOOST OF POSITIVITY
White Papers, Reports, and Special Offers
Webinar
How to Unclog Your Sales Pipeline


Wednesday, July 15
11 am PT / 2 pm ET


Register Now
Daily Cartoon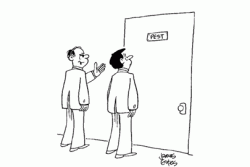 You've been nagging me for months to get you a nameplate for your door, Farbish...how do you like it?