Selling Power Magazine – August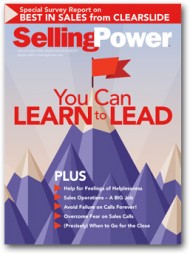 Features in this issue include:
3 Essential Lessons in Sales Leadership
Sales Operations - A BIG Job
5 Strategies for Transforming to a Best-in-Class Sales Organization
Overcome Fear on Sales Calls
(Precisely) When to Go for the Close
How to Manage the Feeling of Helplessness
Daily Boost of Positivity
Persistence and determination together are omnipotent. You never fail unless you quit. Successful individuals have clearly defined game plans, which they review constantly. They know where they are going every day, every month, and every year. Things don't just happen in their lives; they make them happen. Don't let anything stand in your way. Your level of persistence in the face of adversity and disappointment will be a measure of belief in yourself. Associate with people who share your goals and work habits. You must follow the leaders who are…
SUBSCRIBE TO THE DAILY BOOST OF POSITIVITY
White Papers, Reports, and Special Offers
Webinar
Eight Best Practices for Improving Collaboration in the Proposal Process


Wednesday, September 14
11 am PT / 2 pm ET


Register Now
Upcoming Event
Sales 2.0 Conference


Monday, November 14


More Info
Daily Cartoon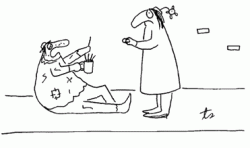 If you think I look depressed, you should see my sales manager.