Selling Power Magazine – May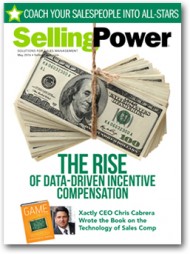 Features in this issue include:
The Skinny on Sales Compensation Today
Coach Your Salespeople into All-Stars
How to Excel at Time Management
How to Transform Hope into a Success Plan
Understanding Your Buyers' True Feelings
Daily Boost of Positivity
Many of us dream of a fantasy world without problems. In reality, we all will meet obstacles and suffer setbacks or misfortunes. Realize that security is an illusion. No matter how well we plan and prepare for the future, problems will sometimes wear us down, drain vitality and enthusiasm, and make our goals seem out of reach. Discouragement is like quicksand; we must pull ourselves out quickly or sink ever deeper. To keep discouragement at bay, recall past successes. Record in a notebook every time you've overcome a hardship. Write…
SUBSCRIBE TO THE DAILY BOOST OF POSITIVITY
White Papers, Reports, and Special Offers
Webinar
How to Create & Sustain Relationships of Value


Tuesday, May 10
10 am PT / 1 pm ET


Register Now
Upcoming Event
Sales 2.0 Conference, San Francisco


Monday, July 18 – Tuesday, July 19


More Info
Daily Cartoon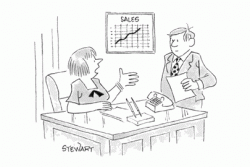 Friendliness and empathy are fine traits for a salesperson, Gates, but so is the old killer instinct!