Selling Power Magazine – June 2015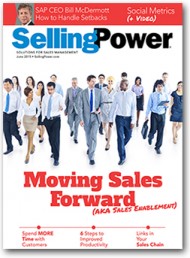 Features in this issue include:
How Sales Enablement Moves Sales Forward
Eliminate the Gap between Sales & Marketing
Spend More Time with Customers
Six Steps to Better Productivity
Jeffrey Gitomer on Happiness
Daily Boost of Positivity
Common worries about selling can become distractions that stand in your way. Salespeople who want to take steps to improve the way they relate to customers must remove these mental obstacles. Start by focusing on what you want to get out of each individual interaction with a client or prospective buyer, instead of focusing on what might go wrong. Such thoughts as, "If I don't get this sale, then I'll miss my quota," will only get in the way of your ability to relate to customers and assess their needs.
SUBSCRIBE TO THE DAILY BOOST OF POSITIVITY
White Papers, Reports, and Special Offers
Webinar
How to Unclog Your Sales Pipeline


Wednesday, July 15
11 am PT / 2 pm ET


Register Now