Selling Power Magazine – October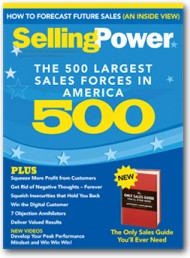 Features in this issue include:
The 2016 Selling Power 500 – America's Largest Sales Forces
How to Forecast Future Sales
Get More Profit from Customers
Get Rid of Negative Thoughts – Forever
Win the Digital Customer
New Videos: Develop Your Peak Performance Mindset
Daily Boost of Positivity
This will give you a sense of tremendous accomplishment and provide momentum for finishing your tasks: 1) Make your final hours at work enjoyable by saving for last the tasks you find pleasant. 2) Remember to go task by task. If you finish one task at a time, you will avoid feeling fragmented and overburdened. It is also easier to see where you're going with a job when you give it your full concentration. 3) Leave some time between activities to minimize overlapping.
SUBSCRIBE TO THE DAILY BOOST OF POSITIVITY
White Papers, Reports, and Special Offers
Free Webinar
Five Executive Decision-Making Styles You Can't Afford to Ignore


Tuesday, November 1
2:00 pm ET


REGISTER NOW >
Upcoming Event
Sales 2.0 Conference


Monday, November 14


More Info