Selling Power Magazine – April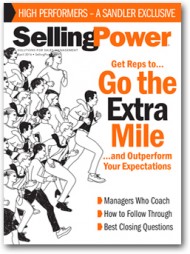 Features in this issue include:
Get Reps to Go the Extra Mile and Outperform Your Expectations
Managers Who Coach
How to Follow Through
The Best Sales Closing Questions
Top 10 Behaviors for High-Performing Salespeople
Daily Boost of Positivity
Stop whatever you're doing and delight in being alive! Sense the physical processes inside you, the good in people around you, and the beauty of the world you live in. Keep everything in context; smile and laugh (especially at yourself). Accept and embrace change. No matter what you want, whatever happens is going to happen. Be fit for success. Exercise and take care of yourself. Speed up your body action by moving to music, stretching, or jogging. Movement helps eliminate pent-up stress by aiding the removal of stress-produced chemicals that…
SUBSCRIBE TO THE DAILY BOOST OF POSITIVITY
White Papers, Reports, and Special Offers
Webinar
How to Create & Sustain Relationships of Value


Tuesday, May 10
10 am PT / 1 pm ET


Register Now
Upcoming Event
Sales 2.0 Conference, San Francisco


Monday, July 18 – Tuesday, July 19


More Info
Daily Cartoon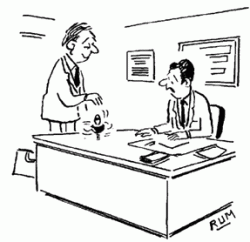 That's not exactly what I meant when I advertised for a top salesman.