Selling Power Magazine – October 2015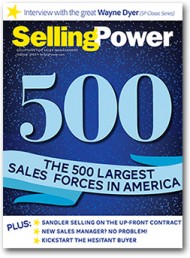 Features in this issue include:
Annual Feature: Selling Power 500 Largest Sales Forces in America
Interview with the great Wayne Dyer
New Sales Manager? No Problem!
Identify Decision Makers at New Accounts
Use Social Networks for Relationship Building
Daily Boost of Positivity
Do buyers remember you? We remember people by their outstanding characteristics. If you wore a bright green wig, you wouldn't be forgotten any time soon; however, we are remembered, not only by the way we look, but by our unique actions, as well. Some reps make it a point to identify customer problems and needs – business related or not. They then go out of their way to seek solutions that they give back as a special service. Customers rarely forget them.
SUBSCRIBE TO THE DAILY BOOST OF POSITIVITY
White Papers, Reports, and Special Offers
Webinar
How to Use 7 Simple Quota Practices to Skyrocket Sales


Wednesday, October 7
11 am PT / 2 pm ET


Register Now
Upcoming Event
Sales 2.0 Leadership Conference


Monday, November 16


More Info
Daily Cartoon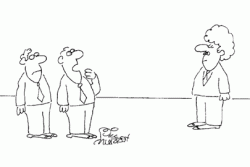 He must be one of those corporate bigwigs.