Selling Power Magazine – November 2015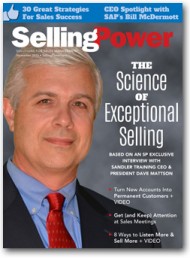 Features in this issue include:
The Science of Exceptional Selling
30 Great Strategies for Sales Success
Turn New Accounts into Permanent Customers
Get (and Keep) Attention at Sales Meetings
CEO Spotlight with SAP's Bill McDermott
8 Ways to Listen More & Sell More
Daily Boost of Positivity
As a sales professional, how are you using social media to enhance your core selling activities? In a social-media world, sales managers fear that their reps will end up wasting time chasing the wrong customers down rabbit holes. Your goal on social media should be, first and foremost, to listen, and listen carefully. What are your customers saying about you and your competition? What are their concerns and worries? Jump in with an answer only if you have relevant, useful, and targeted information to share. Nothing will increase your chances of being ignored faster than an obvious sales pitch. In…
SUBSCRIBE TO THE DAILY BOOST OF POSITIVITY
White Papers, Reports, and Special Offers
Webinar
Five Key Steps for Building a Top Sales Team in 2016


Wednesday, December 16
11 am PT / 2 pm ET


Register Now
Upcoming Event
Sales 2.0 Conference


Monday, July 18


More Info
Daily Cartoon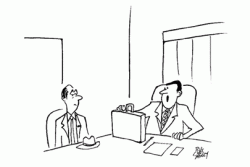 Here's something that will improve your sales, Nerdly...
a briefcase with a snooze alarm.