Selling Power Magazine – February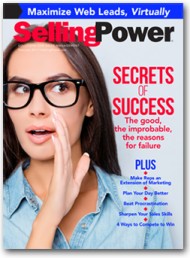 Features in this issue include:
Secrets of Success: How to Turn Your Dreams into Reality
Why Sales Productivity is Not Enough
4 Ways to Become a Better Competitor
Time to Change: How to Beat the Procrastination Bug
3 Ways to Sharpen Existing Sales Skills
Daily Boost of Positivity
An amazing number of salespeople suffer from a lack of belief in their own talents and abilities. They become their own worst enemies. When you predict you can't, you work harder to prove just that. You might even avoid asking for the order to remove the possibility of rejection. But when a customer says no, it does not mean the end of the world, your life, or your career. It only means that the customer has chosen to say no at that particular moment. It does not mean that the…
SUBSCRIBE TO THE DAILY BOOST OF POSITIVITY
White Papers, Reports, and Special Offers
Free Webinar
Using Analytics to Drive Sales Behavior and Hit Quota


Tuesday, March 21
1:00 pm ET


REGISTER NOW >
Daily Cartoon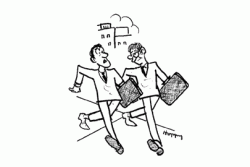 Well?