Upcoming Events
November 16, 2015
Achieve World-Class Sales Success
The Sales 2.0 Leadership Conference, Philadelphia will help sales leaders achieve world-class sales success by giving them strategies to improve the mindsets, skillsets, and 'toolsets' of their sales reps. Sessions will address the following sales leadership challenges:
Mindset – The Peak Performance Mindset: Help sales reps foster a winning mindset that builds their confidence, fosters persistence, and develops their sense of urgency.


Skillset – World-Class Sales Leadership Skills: Get insight on how to better manage the hiring process, onboarding, sales training and enablement, aligning sales with marketing, and more.


Toolset – Game-Changing Sales 2.0 Technology: Learn how to identify and adopt sales 2.0 tools that empower sales reps, including tools that assist with: customer/prospect engagement, sales analytics, pipeline management, sales-cycle acceleration, and more.
Webinar
Multiple Channels, One Experience: Maximize Revenue and Customer Satisfaction


Thursday, October 22
9 am PT / 12 pm ET


Register Now
Upcoming Event
Sales 2.0 Leadership Conference


Monday, November 16


More Info
Daily Cartoon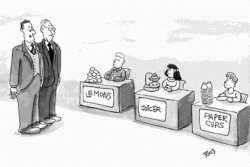 Everybody's specializing these days.