Upcoming Events
May 1-2, 2017
The Sales 3.0 Conference in San Francisco will provide executives in sales and sales operations with insight and strategies to drive improved sales performance and revenue growth.
Sessions at this event will include:
Managing Millennials: Busting the Myths, Researching the Tricks, and Providing Real Tips on What to Do with Your Millennial Workforce
How to Sell to the C-suite
How to Build a Mentally Tough Sales Team
Data Is Your Customer: AI Strategies to Position Your Company for Success
Recognizing the Signs Your Sales Team Is Headed in the Wrong Direction
The Secret to Achieving 10 Percent Higher Win Rates: An Account-Based Full-Funnel Strategy
May 16-17, 2017
The customer journey has no boundaries, it flows between channels, devices and departments. How is your organization dealing with providing a seamless customer experiences across your company? Are your sales and marketing forging a strong, collaborative alliance that enables them to work in harmony? Do your marketing and commerce teams have the same vision of the right customer experience?
Join this exclusive event for top executives and leaders in Marketing, Sales, and Commerce. Please contact us a note at:
CXSummit@sap.com
.
September 18-19, 2017

Attend the Sales 3.0 Conference in Las Vegas and learn how to drive improved sales performance, improve customer loyalty, and create revenue growth. You will learn from sales VPs from industry-leading companies, technology influencers, analysts, and management and leadership experts.


Free Webinar
How to Take Control and Improve the Performance of Your Sales Team


Wednesday, April 5
1:00 pm ET


REGISTER NOW >
Daily Cartoon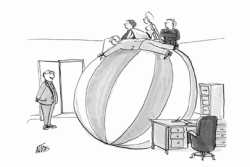 I just came by to make sure everyone's on the ball.