Upcoming Events
September 18-19, 2017

Attend the Sales 3.0 Conference in Las Vegas and learn how to drive improved sales performance, improve customer loyalty, and create revenue growth. You will learn from sales VPs from industry-leading companies, technology influencers, analysts, and management and leadership experts.


Free Webinar
What Does the Future of Sales and Service Look Like?


Thursday, July 13
2:00 pm ET


REGISTER NOW >
Daily Cartoon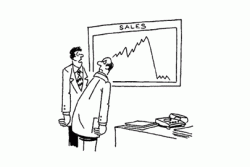 Right there is when you decided to make our best field salesmen District Managers.