Upcoming Events
September 18, 2014
Join us for the Sales 2.0 Conference, Las Vegas. Network with executives in sales, marketing, and sales operations. Share ideas. Learn new best practices. Ensure your sales organization performs at peak levels.

August 20-22, 2014
The Brooks Group's Sales Management Symposium is a live, 2.5-day seminar designed for Sales Managers, VP of Sales or anyone else charged with leading, motivating and coaching a sales team.
The Sales Management Symposium delivers bottom-line tactics and street-smart leadership skills - it covers everything you need to know in order to build and sustain peak performance from your sales team. Here are just a few of the skills you'll learn through this powerful program:
How to Hire Sales Champions
How to Set & Achieve Performance Standards
Determine What Motivation Methods Work
Streamline the Sales Process
Master the Art of Sales Coaching
How to Leverage Your Natural Talents
This event is also offered on November 5-7, 2014
Webinar
5 Pillars of Mobile Sales Enablement


Tuesday, September 9
1 pm ET / 10 am PT


Register Now
Upcoming Event
Sales 2.0 Conference


September 18, 2014


More Info
Daily Cartoon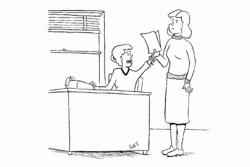 I counted 23 federal, state and local taxes we pay, and that's called FREE enterprise?