Upcoming Events
December 4, 2017

The Sales 3.0 Conference, Philadelphia will provide executives in sales and sales operations with key insight and strategies to drive improved sales performance and revenue growth. Attendees will learn from sales VPs from industry-leading companies, technology influencers, analysts, and management and leadership experts.

Join us December 4 in Philadelphia. Network with your peers. Build your network. Learn new best practices. Discover strategies and tactics that will make an impact on your sales teams' success.


December 5, 2017

When you analyze the performance of your sales team, you can easily identify the top 20%, the middle 60% and the bottom 20%. Research suggests that top sales performers develop the right mindset, the right skills set, and deploy the best tool set to close more deals. While average performers (the 60%) have above-average potential (and that's why you hired them), their mindsets are not growing and their belief systems are often self-limiting. The good news is that, with the latest tools developed by Mindset Science, you can help your mid-level salespeople transform into peak performers and increase sales by 40%, 100%, or even 200%! This three-hour workshop and post-workshop training materials will give you the roadmap to make it happen.


Upcoming Event
Sales 3.0 Conference


Monday, December 4


More Info
Daily Cartoon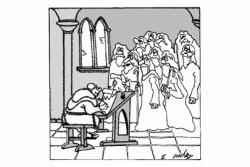 Prophets are up.