Upcoming Events
April 27-28, 2015
Creating a Predictive Sales Organization
What steps do you need to take to improve your sales team in 2015? Winning sales organizations today are driven and enhanced by data, aligned with marketing, and able to react to sales rep and customer needs in real-time.
Agenda topics for this conference include:
How to Use Digital Footprints to Get a Leg Up in B2B Sales
Optimizing Your Sales Team for Success
Do You Matter to Your Customers?
Build a Stellar Sales Team
Modern Selling with Insight Is the Key to Success with Millennials
Leading and Selling in the Digital Economy
Why Rejection Is Awesome
How Sales Operations Can Double Your Sales Team's Productivity
Webinar
Best Practices for Turning Leads into Opportunities


Tuesday, May 5
10 am PT / 1 pm ET


Register Now
Upcoming Event
Sales 2.0 Conference


Monday, April 27 – Tuesday, April 28


More Info
Daily Cartoon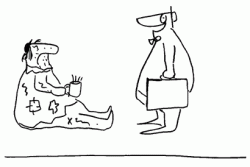 Tell you what. Try it for a week. Then if you still feel you can't afford a yacht...