Upcoming Events
July 14, 2016

B2B ESP is a forum for professionals responsible for fueling the growth engines of the largest enterprises and the fastest growing SaaS companies. Hosted by 6sense, this summit provides the opportunity for peers to share how they make sense of their customer data and use predictive intelligence to capture demand, build pipeline and grow their business. Join an exclusive group of B2B marketing and sales executives, who annually drive and close a combined revenue pipeline of over $100 billion, as we launch the second year of our predictive intelligence summit.


July 18-19, 2016
THE DNA of a High-Performance Sales Team
The Sales 2.0 Conference in San Francisco will help you learn how to integrate best-in-class processes, Sales 2.0 tools, and proven leadership strategies to create a high-performance sales organization.
Agenda sessions will be designed to help sales and sales operations executives implement strategies to accelerate sales growth and improve sales performance and results. You will learn from an expert community composed of seasoned sales executives, thought leaders, and analysts.
Daily Cartoon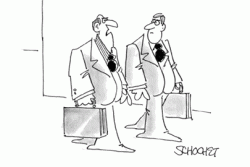 It's not a matter of winning or losing, but how much you control the game.