Upcoming Events
May 5-6, 2014
Success in Real Time
Sales and marketing leaders are investing in solutions and services to achieve dramatic improvements in speed, productivity, and profitability. Sales and marketing solution providers now offer the critical next step in the Sales 2.0 revolution: real-time success for B2B sales.
This brand-new Sales 2.0 Conference will focus on real-time capabilities – real-time marketing, analytics, social media, pricing, performance feedback, incentive programs, etc. – and attendees will learn how to close the real-time technology gap to achieve unprecedented success.
May 7, 2014
Has your market become commoditized? Or worse yet, do your buyers think it is? Today, if you want to win, you have to differentiate. Sales teams need to be armed with information and insights they can use to add value, create credibility, and differentiate their solutions in order to position themselves away from the pack and win more deals.

In this session, David DiStefano will introduce a framework that supports salespeople in finding a connection with a buyer that will introduce a new idea, shift the way the buyer thinks about a challenge or an opportunity, and create an aha moment. In this interactive workshop, participants will learn

- what an insight is and is not;
- a framework to help sales reps best leverage insights and provide greater value to customers;
- how sales teams can personalize an Insight Message;
- how to prepare teams to effectively present insights, create needs, and shape the customer's thinking;
- pitfalls to avoid when leveraging insig

C3 - CallidusCloud's Sales and Marketing Effectiveness
May 12-14, 2014
Join us at C3 – CallidusCloud's Sales and Marketing Effectiveness event on May 12-14, 2014 in Las Vegas! You'll have the opportunity to learn from industry thought leaders and leading analysts, hear best practices and case studies from CallidusCloud customers, network with like-minded people from around the world and attend over 50 sessions. Learn more and
Register Here
.
Webinar
It's OK to be Selfish - How to Enable Reps to Succeed


Tuesday, March 18
2 pm ET / 11 am PT


Register Now
Daily Cartoon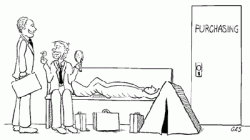 Do we have to wait long?