CRM, SALES 2.0, SOCIAL MEDIA
Present at a Glance
Robert McGarvey

It's a simple proposition, according to Tom Scontras, vice president of sales and marketing at Glance Networks, developer of new screen-sharing tools that allow sales reps to do presentations on the fly to any customer, regardless of the technology available to the customer. "Simple. Fast. Reliable. That's our goal with Glance," he says. There's no need for the prospect to download anything; all that's needed is a browser that can go to a Web address: [USERNAME].glance.net. It's clear. Concise. Can do.

And that browser can be on a computer, a netbook, an iPad, even some smart phones.

The big advantage: This marks an end to the frustrations that typically accompany attempts to organize quick online meetings using other tools that, in most cases, offer more sophisticated sharing technologies. When all a rep needs to do is share some screenshots to help a prospect see what he or she is selling, however, Scontras says Glance is powerful enough.

Note: The other, better-known online meeting tools – you know them – are absolutely great when they work. The problem is that often, getting all hooked up takes time, and with impatient prospects, time is at a premium.

Enter Glance, which promises ease of use with little time required for setup. Glance users sing its praises. Ask Derek Dean, director of sales strategy at Reed Construction Data. Dean relates that he first heard about Glance when a rep on his team subscribed to the service on his own dime. Soon the rep was saying that he was making better use of his customer and prospect contacts and closing more deals. Dean checked it out himself and was impressed: "It offers one-click access to whatever you want the prospect to see. It just works." Soon he had his 100-plus reps signed up with Glance, and he continues to rave about the tools.

Important, too, is that Glance integrates with Salesforce, meaning that every Glance session – including who attended and for how long – is automatically captured in Salesforce's analytics. "Whenever we do a demo, the record is captured in Salesforce," says Dean.

Don't other screen-sharing tools allow users to share more data and more sophisticated files? Scontras does not dispute that. But Glance is no-brainer sharing that works even with time-pressed, high-strung, type A prospects.

"When you call buyers and they say they have a few minutes, they have a few minutes. You don't want to waste this time trying to set up a complicated online meeting," says Scontras. "Customers today are untethered. They may be calling you on a cell phone from a coffee shop in an airport. Glance lets you make optimal use of these on-the-fly sessions. That's what the technology was created to do."
Free demos are available via glance.net. Monthly subscriptions are $49.99, with discounts for bulk buyers.



Webinar
The New Rules of Selling


Wednesday, October 15
1 pm ET / 10 am PT


Register Now
Upcoming Event
Sales 2.0 Conference


September 18, 2014


More Info
Daily Cartoon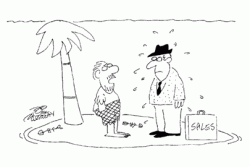 I specifically remember stating that no one was to call during working hours.