CRM, SALES 2.0, SOCIAL MEDIA
Food for Thought
Heather Baldwin

In today's hyperconnected, hyperbusy world, it is harder than ever to get a customer's attention. That's especially true when you're trying to launch a new technology for customers in the warp-speed world of restaurant operations. Restaurant owners, like most prospects today, are super busy and have little time or patience for new technologies they've never heard of and don't understand. So how do you cut through the noise?

That's what Sentrana, a scientific marketing company that helps clients in the food-service industry understand their markets at a deeper level, was grappling with in early 2011. Its flagship product, MarketMover, had notched several years of success predicting how specific customers would likely respond to changes in price, advertising, sales force effort, and product variety.

Aiming to leverage that same kind of insight, in early 2011 the company began rolling out SpoonByte, a technology that creates matches between restaurants and highly detailed patron preferences. The aim is to help restaurants build relationships with patrons and turn them into loyal customers – the holy grail of the restaurant business.

"One of the biggest challenges in the restaurant industry is standing out from the crowd and getting people to notice what you're doing," observes Damon Adams, sales director at Sentrana. "In the past, to get noticed you had to be louder than everyone else, which meant employing deep discounts and other tactics to bring in customers. We wanted to create a tool to target the audiences who were listening to what certain restaurants might have to say, enabling those restaurants to turn down the volume while better targeting their ideal customer."

Adams says one of his biggest sales obstacles is simply introducing potential users to a technology with capabilities that are new to the industry. "When things are new, it takes longer for people to be receptive to and understand them," says Adams. "They think the tool is a great idea, but they don't understand how it works." And with countless other better-understood issues clamoring for their attention, it's all too easy for restaurateurs to dismiss an unknown, unproven technology. Adams says he and his team are employing a three-pronged approach to address this challenge:

1. Pounding the pavement. Yes, it's old fashioned, and yes, it's an unusual method for reaching customers when you are selling a technological application. But that's the whole point. In today's electronically connected world, face-to-face communication makes an impression. For elusive customers, Sentrana employs a team of inside salespeople to follow up with phone calls.

2. Networking events. Just as face-to-face contact is effective at client workplaces, it is also effective in a networking setting. While sites like LinkedIn are great for building networks in an electronic environment, nothing beats the in-person connection sales professionals can forge at highly relevant networking events, says Adams, who adds that, to boost his profile, he attends "a lot of social mixers and networking events" in the Washington, DC, area.

3. Social-media blitz. Sentrana has created a Facebook page, a Twitter account, and two blogs for SpoonByte. "We use these channels to create buzz and put out messages we think will be impactful," says Adams. Still, mirroring the rest of his sales strategy, he keeps things personal. He sends individual thank-yous to new Twitter followers, and he uses the blog to share restaurant sales-success stories and generate dialogue or answer questions about SpoonByte.

SpoonByte is an application, but Adams says the key in all his conversations is to remember that he's not selling technology; he's selling restaurateurs the ability to be heard in a noisy crowd. "My focus is on helping customers build prosperity and a loyal patron base through micromarketing," he concludes. And that message is helping him cut through the techno clutter and reach prospects.


At a Glance

Headquartered in Washington, DC, Sentrana is a scientific marketing company specializing in the food-service industry. It helps business leaders holistically coordinate their pricing, product mix, advertising, and sales activities to drive demand for their products and services. By providing insight at the granular level, Sentrana enables clients to customize their products and services to the unique preferences and needs of each customer in alignment with the firm's overall performance objectives.

Prior to joining Sentrana in 2010, Damon Adams was a territory manager with U.S. Foodservice, a leading food-service distributor and food-safety advocate.

Webinar
The New Rules of Selling


Wednesday, October 15
1 pm ET / 10 am PT


Register Now
Upcoming Event
Sales 2.0 Conference


September 18, 2014


More Info
Daily Cartoon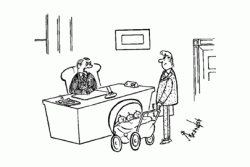 Give me three good reasons why you should get this order.