Selling Power Magazine Article
Selling Power 500 Largest Sales Forces (2016)
Selling Power Editors
Selling Power
magazine's research team ranks companies according to the estimated number of salespeople they employ. The 500 top companies in America, which employ the world's largest sales forces, depend on millions of salespeople to achieve their revenue goals, and this year marks the first time the number of salespeople is approaching the 26 million mark.
This shows that, without question, the men and women who make up each company's sales force produce the revenue that will continue to fuel this country's economy.
The 2016 SP 500 includes the top 200 companies in the manufacturing industry, the top 200 companies in the service industry, the top 50 insurance companies, the 30 largest direct-selling companies, and the top 20 automotive-dealer organizations (megadealers).
See the 2016 Selling Power 500 List:
Automotive Dealers
Automotive Makers
Direct Sales
Insurance
Manufacturing
Service
Every year, new companies make the list while others drop off. The total number of salespeople employed by all 500 companies listed is 25,994,677, which represents a sizable increase of about 5 percent – or more than 1.1 million additional salespeople – as compared to last year. This overall change is due almost entirely to an increase in the number of salespeople working for direct-selling companies.
The direct-selling category, which posted a small 1 percent increase in 2015, posted a significant 5 percent increase this year – a possible indication that people are leaving the more traditional full-time sales force in greater numbers. The number of salespeople in the manufacturing industry increased by more than 6 percent, while the number of salespeople in both the service and insurance industries declined in 2016, by almost 3 percent and 1 percent, respectively. The decline in the service industry reversed the 3 percent increase in the number of salespeople posted last year. The automotive industry posted a small increase in the number of salespeople: up just over 2 percent. Overall, without the direct-selling numbers, the number of salespeople increased by a small 11,580 people, but continued a second straight year of increases.
The states with the most SP 500 companies are California (52), New York (50), and Illinois (36). The states in which the SP 500 companies employ the largest number of salespeople are New York (6,726,456), California (5,576,162), and Texas (3,768,240). These states account for about 27 percent of the total companies and a whopping 61 percent of the total salespeople.
Productivity Mixed
Our research team continued to find that salespeople employed by manufacturing firms contribute a far higher amount of sales revenue than other industry segments. The top 200 manufacturing firms employ 521,041 salespeople and produce more than $3.8 trillion in sales. That's an average of more than $7.4 million in sales per salesperson. This represents a significant (6 percent) decline in productivity compared to the previous year, which means productivity, which had been stagnant for three consecutive years, is now in decline. The number of manufacturing salespeople increased, gaining more than 32,000 salespeople compared to last year. The total number of manufacturing industry employees decreased slightly this year, decreasing by less than 1 percent from last year.
The top 200 companies in the service sector reported a small decrease of just more than 16,000 salespeople, bringing the total to 600,088 salespeople. The number of salespeople decreased by almost 3 percent, and the total revenue came in at more than $3.1 trillion, a 12+ percent increase over last year. This represents more than $5.2 million in sales per salesperson and a healthy 15 percent increase in productivity – now showing two straight years of productivity gains. The number of service-sector employees increased by just over 2 percent this year, making four consecutive years of increases in the number of service-sector employees.
The top 20 automotive megadealers reported positive numbers across the board this year. The top 20 firms own 1,724 dealerships (up by about 2 percent), employ an estimated 25,860 salespeople (an increase of about 2 percent), and produce more than $121 billion in sales (up by almost 4 percent). This brings the average annual sales per salesperson to almost $4.7 million (up by more than 1.7 percent). The productivity registered is a hopeful sign for an automotive industry that is continuing its recovery.
The top 50 insurance companies employ sales forces totaling 638,645 across the industry, with an average sales volume per salesperson of $1,136,379. This represents an insignificant increase in productivity of less than 1 percent. In
(continued on page 2)
Upcoming Event
Sales 3.0 Conference


Monday, December 4


More Info
Daily Cartoon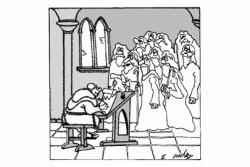 Prophets are up.