Selling Power Magazine Article
Do You Feel Handicapped by the Need to Boil the Ocean?
Gerhard Gschwandtner
I noticed a book on the front seat: Friedrich Nietzsche's
Beyond Good and Evil: Prelude to a Philosophy of the Future
. At first I thought that the cab driver was also a philosophy student, perhaps taking courses at night, but rather than jump to conclusions, I asked. He told me that philosophy was a source of inspiration for the rap songs he writes, and that opened a floodgate of information way too long to share in this space. He shared with me that he actually felt pressured to become a superstar rapper, but he hadn't written a good song in a long time.
As we were driving down the highway, he confessed that he had no idea how to create his brand, sell his work, or compete with rappers who capture the spirit of our times in the most edgy ways. He said, "I've been stuck in a rut for the past two years. I want to take three months off and do nothing but write new songs."
Surprisingly, he asked me what I thought, so I made a suggestion, drawing from what I know: the art of selling. "Take baby steps; don't try to boil the ocean. Why don't you set smaller goals every day? Think about what you can do today. Perhaps write three good lines and call it a day. Tomorrow, you'll add three more, and within a month you've got ninety lines."
His face lit up, and he said, "I can do that. I really can't afford to take off from work anyway. I can write three lines over and over until they're perfect – that takes less than an hour a day."
That conversation brings me back to the rut in which many sales organizations find themselves. Sales leaders delay decisions until they have all the information they need. They wait for new studies and fresh surveys and buy-in from C-level executives, and they don't think about what they can successfully do today. The world is shifting from the delay economy to the real-time economy. The time to get things done is now.
Free Webinar
2-HOUR VIRTUAL SALES TRAINING


Tuesday, December 6
2:00 pm ET


REGISTER NOW >
Daily Cartoon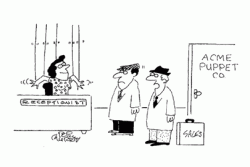 I don't know what it is, but that one always makes me nervous.