Selling Power Magazine Article
In Transition
Henry Canaday
Information technology has made both salespeople and their customers much better informed. This simple fact has had huge ramifications throughout the sales process. It has required smarter and better-trained reps to do much more consultative selling, and it means compensation plans must focus on business results, not just volume.
Constant improvement and lifetime learning are required in order to advance and often just to remain on the sales force. And managers must offer much more than just good comp plans to motivate and retain these better reps.
That's the picture painted by several senior sales leaders as they discuss changes in sales.
Whirlpool
"When I was hired, all that was important was developing the relationship, the ability to negotiate, having fire in the belly, and tenacity," remembers Sam Abdelnour, vice president of sales of the North American region at Whirlpool. "Now I am looking for smart people who can understand and use business analytics to explain and provide value to customers."
Indeed, Abdelnour says analytic services that his firm brings to its customers – generally the retail outlets that sell Whirlpool and other appliances – have become more important than product and price in winning their business. "We can show them what brings their customers in the door and what retains them."
One result is that Whirlpool increasingly recruits graduates of universities that offer sales curricula. Retaining these smarter and better-trained salespeople is also harder. "They do not expect to stay with one company for a lifetime, and they seek a better balance between life and work," Abdelnour emphasizes. "You have to communicate your strategy, tell them where they are going to be in five years, and give them the tools to be successful."
The explosion of such technologies as Blackberrys, iPhones, and iPads has not only replaced some face-to-face meetings, but also changed the environment of the meetings that still occur. "It used to be when you sat down with a client, you gave each other your full attention," Abdelnour says. "Now this is just part of many things you are doing."
Now a buyer can effectively conduct negotiations with many competing vendors simultaneously. "In the old days, difficulties in passing information did not allow that," Abdelnour says. "I had to check with several offices, and by the time I got a response to the client, [the information] was out of date. Now if a buyer wants information, I can get it to him or her instantaneously."
Buyers know that reps now have much more information about products than simple prices and specifications. So, at least in Abdelnour's industry, the sales cycle has become much shorter, even as winning the business has gotten harder. "Buyers have much more information, and they are dealing with multiple vendors at once. In the past, if you were good enough at negotiation, you could close [the deal] right there, because the buyer often did not know what the alternatives were."
And it is not only the sales cycle that has accelerated. Often, the product cycle has, also. "We used to introduce a new product about once every five to seven years," Abdelnour remembers. "Now we incorporate innovations almost annually."
But some things have not changed much in Whirlpool's world. For motivating and keeping the sales force aligned with company goals, Abdelnour argues that face-to-face meetings among sales leaders and reps should still be held several times a year. At Whirlpool, this means combining annual and regional sales meetings.
"You need high-energy meetings to celebrate with the team and talk about best practices," Abdelnour urges. Whirlpool holds an annual Winners' Circle competition, with reps competing all year to be in this contest. It's held before an audience of the contestants' fellow reps. And Abdelnour constantly uses voicemails or emails to strengthen his relationships with the managers and reps he meets at face-to-face gatherings.
Over the years, Whirlpool has experimented with a variety of sales-compensation strategies: straight salary, straight commission, and a mixture of both. Performance comp has been based on either volume or value. At this point, the company has settled on a combination of salary, commission, and bonus. Commissions are paid for selling the right mixture of
(continued on page 2)
Webinar
Secrets to Success with Mobile Sales Enablement


Wednesday, November 5
1 ET / 10 am PT


Register Now
Upcoming Event
Sales 2.0 Conference


Monday, March 16


More Info
Daily Cartoon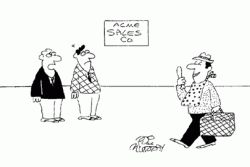 He irks me - always bragging about what a picnic his territory is.