Selling Power Magazine Article
Students of the Marketplace
Henry Canaday
That is exactly the challenge Paul Boitmann, president of sales operations at Newell Rubbermaid, faces every day of every year. In addition, Boitmann's reps must deliver to retail outlets a combination of shopper and market insights and merchandising solutions that integrate with the outlets' own sales strategies.
Further, Boitmann faces the dual challenges of training an enterprise sales force with global reach and making training relevant to all the channels in emerging and developed markets.
The company trains about three-quarters of its reps each year in one of three programs: Sales Excellence 101 for entry-level reps, which introduces consumer-driven innovation and brand building; Sales Excellence 201 for midcareer salespeople, which teaches how to be a value-added supplier for customers; and Sales Excellence 301 for senior reps, which was developed in partnership with the University of Chicago and integrates sales and strategic planning.
"We are training our sales force to be students of the marketplace," Boitmann summarizes. "This means understanding the macroeconomic trends, consumer sentiments, and the priorities and strategies of our retail partners. Through collaboration among our sales, channel, and brand management, we drive consumers to retail aisles and help our customers deliver a great shopper experience."
To help reach a global sales force, Newell administers online training using avatars – on-screen representations of salespeople – to engage employees in learning. He also uses audiocasts, which salespeople listen to on the move. "This is a quick and easy way to send out new lessons," Boitmann says.
Sales training across North America, which declined sharply in 2008 and 2009, rose 15 to 20 percent in 2010, estimates Doug Harward, CEO of Training Industry Inc. Along with information technology, sales was the fastest-growing training field.
Major enterprises still conduct most sales training in-house, but outsourced sales training is also increasing. Enterprises are seeking to consolidate the number of training providers and generally want to deal with large, diversified training firms. And they increasingly ask for customized sales training tailored to their own products and needs.
One big technology trend is the growth of learning portals, offering not only sales training but company and industry news, white papers, case studies, and communication from top execs. "Salespeople log in to the portal and get anything that has happened today, what the VP of sales is thinking, press releases – all in real time," Harward explains.
Bob Butler of Butler Learning Systems sees enterprise sales forces relying chiefly on in-house resources: "They are using their VPs to do team training." Healthy enterprises are investing in sales training chiefly to pick up market share during the recession and prepare for rapid growth when good times return.
York Baur, executive VP of The TAS Group, says sales training is growing again and that growth is strongest for enterprises that have the cash and sophistication to plan ahead. Like Butler, Baur sees gaining market share as the primary objective: "Enterprises are looking for rigor in account and opportunity management and measurable results. They are getting more methodical in the treatment of large and global accounts."
Dan Miller, senior VP at General Physics, sees three broad trends: Training is up from the disastrous levels of 2009, there is more pressure for efficiency, and enterprises are making more use of blended learning that includes instructor-led virtual classrooms.
But training objectives differ widely by market. Pharmaceutical corporations are increasingly interested in training reps for compliance with regulations and integrating sales training with operations and marketing. "If a new drug is launched on Friday, they want to start selling on Monday," says Miller.
Major automobile manufacturers are training reps on the new green technologies and how to teach their customers about them, both technically and in terms of economic benefits.
High-tech enterprises are training their salespeople "like crazy," Miller says, because they launch new products so frequently. "And they must train retail clerks, who sell the products of six manufacturers, not just one."
High-tech product training must be fast and frequent, but not necessarily thorough. "If you don't get 100 percent of
(continued on page 2)
Upcoming Event
Sales 3.0 Conference


Monday, December 4


More Info
Daily Cartoon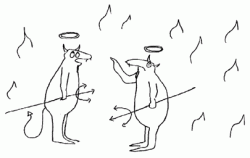 I didn't want one either, but the guy had such a great sales pitch.