Sales Management Digest
How to Find Innovative Solutions to Customer Problems
Mark Donnolo
Mike, a sales leader for a large beer distributor, was faced with a problem. A customer of his – a major retailer – needed to increase sales of craft beer. The customer had tried the usual methods of offering price promotions and trying to get more shelf space, but they hadn't worked.
What should Mike do to help the customer find a way to increase sales? While the objective (to increase sales of craft beer) may seem clear, usually there are other factors driving a customer's challenges. It may sound counterintuitive, but he should actually make it his goal to redefine the problem for the customer. Here are some ways that Mike can gain a new perspective and find an innovative solution.
1)
Understand the customer's business priorities.
Financial challenges apply to the customer's growth or profitability, either overall or in specific areas. Often, this appears be the customer's main challenge, and it's usually the topic the customer talks about the most.
2)
Ask about issues within the customer's market.
Think in terms of specific segments or geographies. Are there challenges the customer is trying to address for certain markets? Does the customer want to deal with a certain geography or customer segment that may be exacerbating his or her company's challenges?
3)
Consider the challenges the customer has with its offering.
What is your customer trying to accomplish with his or her product or service? Does the customer have any business priorities that can be solved with certain products or services?
4)
Look for precedents.
How has this challenge been solved before, either within the industry, in similar business models, or even in totally different situations but with some of the same characteristics?
After considering the customer's challenges, the causes of the problem, and the precedents in the customer's market, Mike redefined his customer's challenge, determining that what the customer needed was to strengthen its local market connection with the right expertise in the craft-beer industry. Once this new thinking was applied, Mike was able to suggest solutions that were new and innovative, including beer placements in the produce section and suggestions for certain beer and fruit parings.
Sales challenges aren't always what they seem. It pays to dig deeper and consider the many factors that might be driving a bigger problem for your customer. Define the challenge, and then look beyond it to the core problems to redefine the challenge. Try to understand business priorities and the causes and precedents of that problem, and watch how that leads you to an innovative solution.
Mark Donnolo is managing partner of SalesGlobe and author of
The Innovative Sale: Unleash Your Creativity for Better Customer Solutions and Extraordinary Results
and
What Your CEO Needs to Know About Sales Compensation
.
Upcoming Event
Sales 3.0 Conference


Monday, December 4


More Info
Daily Cartoon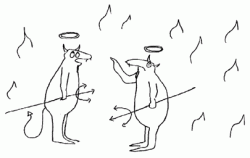 I didn't want one either, but the guy had such a great sales pitch.