Selling Power Magazine – August 2015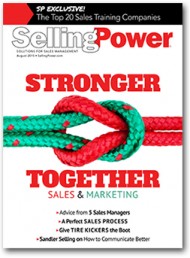 Features in this issue include:
Harness the Power of Sales and Marketing
Selling Power's 2015 List of the Top 20 Sales Training Companies
Advice from Five Sales Managers
A Perfect Sales Process
How to Leverage Social Connections for More Sales
Daily Boost of Positivity
Are your sales less than they should be? Perhaps it is because, over time, you have succumbed to the dreaded "follower" virus. The follower virus festers within healthy, productive salespeople until finally they're reduced to mediocrity. Once infected, salespeople lose their edge, because their approach to selling dulls. Stop following others and reinvent yourself as a value-added salesperson who wants to help make others successful. Don't forget, however, that the follower virus can return without notice – especially wherever complacency runs rampant.
SUBSCRIBE TO THE DAILY BOOST OF POSITIVITY
White Papers, Reports, and Special Offers
Webinar
Sales Content: The New King


Tuesday, September 29
10 am PT / 1 pm ET


Register Now
Upcoming Event
Sales 2.0 Leadership Conference


Monday, November 16


More Info
Daily Cartoon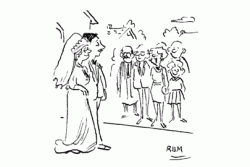 I wonder if it will work - after all, he's a salesman and she's a purchasing agent.