50 Best Companies to Sell for in 2014
For the fourteenth year, the corporate research team at Selling Power has identified and ranked the best companies to sell for among the top sales forces in the United States. The focus includes companies of all sizes, with sales forces ranging from fewer than 100 salespeople to companies with sales-force numbers in the thousands.

An extensive, expanded questionnaire was sent to executives in sales, training, and human resources to uncover key data that would be important to prospective employees as they look for a new sales role or enter the sales profession. This year, we focused on three broad areas while examining the data: customer growth and retention; hiring, compensation, sales training, and enablement; and company recognition and reputation. (See ratings chart below).

As expected, our detailed rating system placed the top companies extremely close, with only 9 points overall separating the top 10 companies. Heartland Payment Systems and SunGard tied for the top spot this year. In other cases of a tie in the overall point rankings, the companies were placed in alphabetical order. Anyone entering the sales field or making a career move to a new company should begin his or her search by taking a good look at Selling Power's list of the 50 Best Companies to Sell For.
The Top 10 at a Glance
#1
Heartland Payment Systems
Wholehearted Success:
What's it like to work at a publicly owned company posting profits in the billions? For one thing, get ready to use tools such as Heartland's proprietary Web-based CRM solution, Atlas. Accessible from any computer or iOS device, Atlas streamlines prospecting, managing pipeline, pricing and creating proposals, and drawing up paperless agreements with Heartland clients.
Upcoming Event
Peak Performance Mindset Workshop for Sales Leaders


Tuesday, December 5


More Info
Daily Cartoon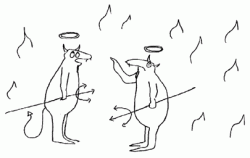 I didn't want one either, but the guy had such a great sales pitch.