Selling Power Top 10 Sales Training Companies in 2012
Each firm included on our 2012 Top 10 Sales Training Companies list has the potential to help you get better results, not just for your team and your company's bottom line, but for your customers, as well.
We used four main criteria during our selection process:
a proven record of delivering results for sales leaders and sales teams,
innovative methods to both deliver and reinforce training,
customizable solutions and training methods to ensure high-quality results,
offerings that have been customized for the evolving needs of today's sales organizations.
The summaries below will give you a quick snapshot of each company's major offerings, and we encourage you to visit their Websites and social networks to learn more.
Note: This listing is organized in alphabetical order and no priority or ranking is implied.
Webinar
9 Common Sales Transformation Pitfalls and How to Avoid Them


Wednesday, September 28
11 am PT / 2 pm ET


Register Now
Upcoming Event
Sales 2.0 Conference


Monday, November 14


More Info
Daily Cartoon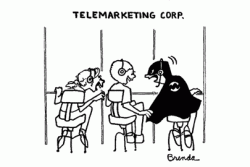 I feel empowered!