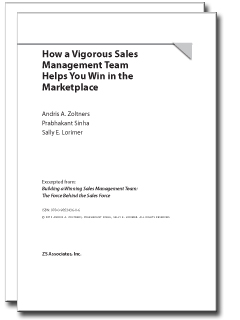 Book Chapter Download:
Building a Winning Sales Management Team)
Which is more critical to sales force effectiveness? Salespeople or sales managers? After asking thousands of sales leaders this question, the authors have found that opinions are evenly divided – but the real answer is more clear cut.

In the short term, a team of excellent salespeople with an average manager will easily outsell a team of average salespeople with an excellent manager. However, in the long run average managers bring even excellent salespeople down to their level.
The best sales forces have both great salespeople and great managers – and the best way to get both is to start with excellent managers.

Download "How a Vigorous Sales Management Team Helps You Win in the Marketplace," the first chapter of Building a Winning Sales Management Team, to learn more about the research behind this important insight.