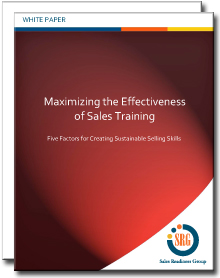 White Paper:
Companies spend about $20 billion a year on various forms of sales training. Yet many sales leaders and managers report low ROI from sales training initiatives.
Read this white paper and learn the five essential factors that can help you achieve sustainable success from your investment in training programs.
You'll learn how to
Use training as an opportunity to motivate your sales team,
Customize training to align with your unique needs,
Leverage virtual training to eliminate knowledge gaps,
Reinforce training to make new skills lasting habits,
Hold reps accountable for ongoing success.