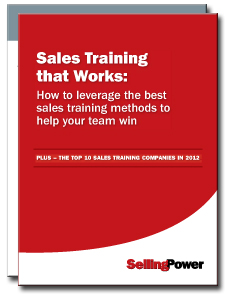 Special Offer:
Sales Training that Works:
How to leverage the best sales training methods to help your team win
Despite the proliferation of technology and sales apps, solid sales training continues to be a driving force that fuels the success of top sales teams. From effective selling skills, to vital product knowledge, to the confidence of knowing how to respond to demanding customers in a dynamic and ever-shifting selling environment, sales leaders cannot afford to let their training efforts lag.
Download this free report from Selling Power and learn
how you can take advantage of the best training methods available today,
which companies made the list of our Top 10 Sales Training Companies for 2012, and
how the top 10 sales training companies are creating higher value for sales teams.