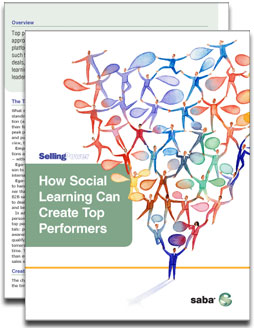 White Paper Download:
How Social Learning Can Create Top Performers
Reps who use technology to stay connected and engaged to their sales teams are in a much better position to become top performers and win more deals, faster.
This white paper outlines the new ways in which social selling capabilities can help sales teams collaborate and succeed by:
enhancing the success of top performers.
connecting low- and middle- performers to top performers.
allowing reps to find and share insights and answers (even among dispersed and global sales teams).
reinforcing sales training initiatives to increase pipeline potential.