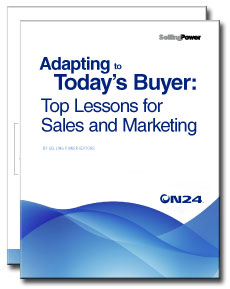 White Paper:
Adapting to Today's Buyer:
Top Lessons for Sales and Marketing
Today's buyer controls the buying cycle. What used to be a sales conversation is now a series of customized engagements and interactions fueled largely by virtual, on-demand experiences rather than face-to-face events and meetings.

This white paper defines the characteristics of the new buyer (or Buyer 2.0), explores the influence of social media on the sales experience, and offers key insight on how marketers and sellers can take steps to meet the expectations of customers and prospects.