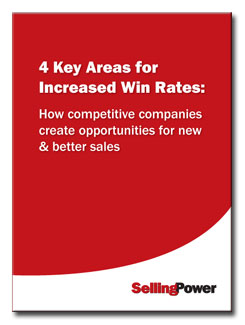 Executive Brief >
4 Key Areas for Increased Win Rates:
How competitive companies create opportunities for new & better sales
When pressure to meet sales is high during tough conditions, sales process and strategy often end up on the chopping block. But trends show that B2B companies are now starting to invest more heavily in training their teams in four key areas to gain a competitive advantage: 1) CRM, 2) sales management, 3) customer engagement, and 4) prospecting strategies.

Download this executive brief to find out what resources are available to you and how you can start to make smart changes that will lead to higher win rates.