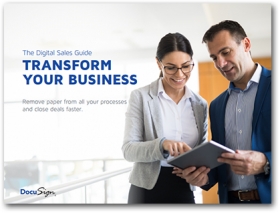 The Digital Sales Guide: Transform Your Business
If you want to simplify your sales process, start by eliminating the drag created by paper. Streamlined, paperless end-to-end operations will:
enhance the productivity of your team,
enable your reps to close deals faster, and
provide a smoother customer service experience.
Download this e-book today and get the inside scoop on digital sales success stories, including use cases.