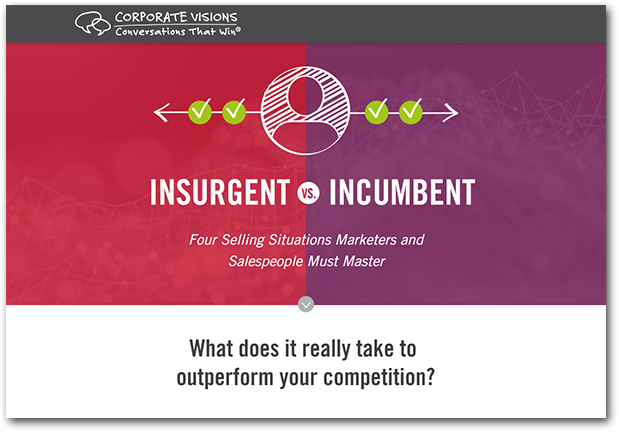 Interactive eBook
Insurgent vs. Incumbent:
4 Selling Situations Marketers & Sales Must Master
Your sales reps constantly face major competition. Whether your business is the upstart insurgent or the established incumbent, your sales team's success comes down to their individual ability to respond appropriately to the range of different buying scenarios they face on a given day.
Read this interactive ebook and learn how to help your sales reps defeat the competition by tailoring customer conversations to these 4 types of selling scenarios:
The Disruptor – When you have the edge, sales reps must take a disruptive approach
The Expeditor – Buying cycles are complex, reps must build a meaningful case that gets execs to decide or defer
The Defender – To make good on all costs it took to acquire your customers, you need to keep them and get them to pay more
The Expander – Your company's future profits rely on upselling customers to the next platform