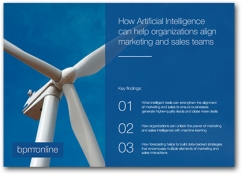 eBook Download
How Artificial Intelligence can help organizations align marketing and sales teams
Wouldn't you love to (finally!) align your sales and marketing teams? Download this e-book today and find out how to get started.
You'll learn:
What intelligent tools can strengthen the alignment of marketing and sales to ensure businesses generate higher-quality leads and close more deals.
How organizations can unlock the power of marketing and sales intelligence with machine learning.
How forecasting helps to build data-backed strategies that encompass multiple elements of marketing and sales interactions.