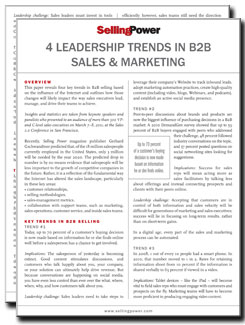 White Paper Download >
4 Leadership Trends in B2B Sales & Marketing
Recently, Selling Power magazine's publisher predicted that, of the 18 million salespeople currently employed in the United States, only 3 million will be needed by the year 2020.
The predicted drop in number is by no means evidence that salespeople will be less important to the growth of competitive companies in the future. Rather, it is a reflection of the fundamental way the Internet has altered the sales landscape, particularly in these key areas:
customer relationships,
selling methodologies,
sales-management metrics,
collaboration with support teams, such as marketing, sales operations, customer service, and inside sales teams.
This white paper reveals four key trends in B2B selling based on the influence of the Internet and outlines how those changes will likely impact the way sales executives lead, manage, and drive their teams to achieve.