Application Request:
Top Sales Enablement Vendors (2022)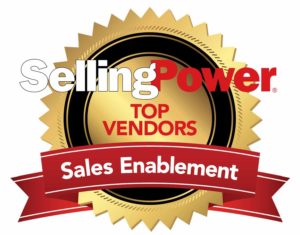 Selling Power's list of the Top Sales Enablement Vendors in 2022 will be featured in the March/April 2022 issue of
Selling Power magazine
(a digital publication) and on SellingPower.com.
To receive an application, please complete the form below.
See below for additional information on the selection process.
Application Materials & Selection Process
To be considered, each organization must complete an application as follows:
An application to be completed by an executive within your organization.
A brief survey to be completed by a minimum of 10 customers. This will allow your customers to provide Selling Power with feedback on their experience with your organization and how your platform/services have impacted their sales performance and results.

You must have a minimum of 10 customer responses each from a unique organization.
The person completing the customer survey must be in a manager or higher position.
Application Evaluation and Scoring
The application will be evaluated by Selling Power in comparison to your fellow applicants in the following areas:
Platform overview and features
Onboarding, analytics, and ROI
Customer support and platform security
Strength of client satisfaction and general client feedback