Salesforce.com Partner e-newsletter
What Does the Jigsaw Acquisition Mean for LeadForce1?
Geoffrey James
The world of AppExchange was rocked at the end of April by salesforce.com's announcement that it plans to buy Jigsaw for $142 million. It would appear that salesforce.com is now in competition with some of its partners, particularly LeadForce1, a software vendor that currently integrates Salesforce and Jigsaw.

There's another way to look at the acquisition, however, according to LeadForce1's COO, Shreesha Ramdas. In a blog entry on the LeadForce1 site, he explains:

"At LeadForce1 we are happy with the news of this acquisition, it is a validation of our marketing automation 2.0 technology, which foresaw this need in the B2B space and tied up with Jigsaw long back, providing our clients with all relevant information on their enterprise visitors or leads â€" ranging from their names to details on the company size, revenue and direct contact numbers, coupled with our analysis on the intent of the enterprise visitor and his browsing behavior on multiple visits. Ensuring the process of lead management is more accurate and fruitful, even in the absence of form-fills."

Ramdas's view makes sense when you consider that a large number of lead-generation and analytics packages already support Jigsaw, typically adding value and additional types of information to that base. As such, Jigsaw is beginning to represent a common denominator of lead-generation data rather than a competitive product in its own right.

It seems clear that the acquisition of Jigsaw is salesforce.com's statement that some level of base information is a key element of CRM and the Sales 2.0 tools that are built on it. While the acquisition does blur the distinction between software applications and application data, that blurring is typical for salesforce.com, a company that regularly defies industry conventions.

What's likely to result is a situation in which vendors such as LeadForce1 compete with other lead-generation vendors to add additional value to the Jigsaw baseline. This will inevitably drive more innovation and more creative use of executive and corporate data. As for LeadForce1, Ramdas points out:

"The distinct and immediate advantage LeadForce1 users will have over others using similar solutions is the fact that such business information provided by Jigsaw, is already accessible to them at no extra cost but as part of the Lead identification and Lead Qualification solutions provided by LeadForce1."

In other words, the long-term implication of the acquisition isn't that salesforce.com is treading on its partner's toes, but rather that the playing field is changing, and lead-generation packages need more than just data to become viable, marketing-automation applications.
Upcoming Event
Peak Performance Mindset Workshop for Sales Leaders


Tuesday, December 5


More Info
Daily Cartoon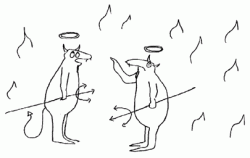 I didn't want one either, but the guy had such a great sales pitch.