Selling Power Magazine Article
Earn More Referrals and Repeat Business
Selling Power Editors
Make sure your buyer-education process goes beyond your products and services.
After the sale, tell your new customers everything they need to know to make their post-sale interactions with your company as smooth as possible. Ideally, your company will have taken steps to do this, but unfortunately, that's not always the case. If you can't get upper management to make improvements, keep track of some of the most common requests and frustrations your customers express, then be proactive about giving key advice and helpful tips. For example, customers might find it useful to know any of the following:



how your products will come packaged;



how to read the invoice;



when they can and can't expect a rush order;



how to follow up on back orders or make special shipping or delivery arrangements;



how to get in touch with you or someone who can help them quickly and easily, even during off hours.



Make clear to customers that your success is based on their success.
Forming a collaborative partnership means the difference between helping your customers and simply selling them on a product or service. Show them your willingness to be available and helpful. Send emails that are concise and intelligent, take time to walk them through procedures, and know when and how to put them in touch with people on your team who will be responsive and knowledgeable.
Remember that good experiences add up
. A good overall experience with your company after the sale can often mean repeat business and glowing referrals for you. Internally, be an advocate for thorough training of customer service teams and any other departments or support people who will be interacting or working with your customer.
The best salespeople quickly learn how to see a signed contract, not as an ending, but as the start of a long-term and mutually beneficial relationship for years to come. If you're truly customer focused, then you should have no problem getting plenty of repeat business and referrals.
Free Webinar
Using Analytics to Drive Sales Behavior and Hit Quota


Tuesday, March 21
1:00 pm ET


REGISTER NOW >
Daily Cartoon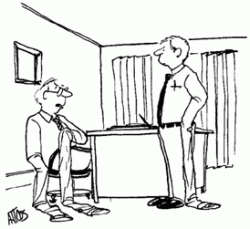 Let's roll up our sleeves and go to work.