Selling Power Magazine Article
The Dotted Line
Alana Mallat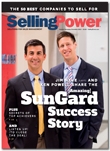 Subscribe Now
The industrial manufacturing company I represent is located in New England, but our prospects are scattered throughout the country. On a call to a contractor in Arlington, TX, I was disappointed to learn that my contact wasn't ready to make a purchase.
During the course of our conversation, however, he asked me what I knew about a resort town in a neighboring state. I shared with him what little information I had about the place, then afterward called the Chamber of Commerce and asked that brochures about the area be sent to me. Once I received the brochures, I wrote a brief note thanking my prospect for his time and telling him that I'd run across the enclosed brochures and hoped he could use them when planning his next vacation. The very next week, my prospect was ready to buy!
I'd like to think my selling skill or quality product changed his mind, but I know my willingness to help him out despite the fact that he hadn't bought from me played a part. Sometimes you have to prove to your prospects that you're willing to go the extra mile before they sign on the dotted line.