Selling Power Magazine Article
Can-Do Attitude
Ray Dreyfack


Focus, not on the obstacle, but on action needed to overcome the obstacle.

Focus on positive words – "benefit," "beauty," "profit" – not on negative words, such as "mistake," "wrong," etc.

Focus on the reward that will be yours when you succeed.

Upcoming Event
Sales 2.0 Conference


Monday, November 14


More Info
Daily Cartoon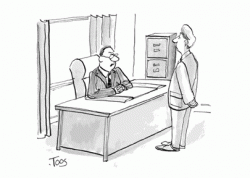 As part of the company's profit-sharing scheme,
I want to see your winnings from last night's poker game.