Selling Power Magazine Article
Can-Do Attitude
Ray Dreyfack


Focus, not on the obstacle, but on action needed to overcome the obstacle.

Focus on positive words – "benefit," "beauty," "profit" – not on negative words, such as "mistake," "wrong," etc.

Focus on the reward that will be yours when you succeed.

Webinar
How to Equip Your Sales Force to Have Smarter Business Conversations


Thursday, April 9
11 am PT / 2 pm ET


Register Now
Upcoming Event
Sales 2.0 Conference


Monday, April 27 – Tuesday, April 28


More Info
Daily Cartoon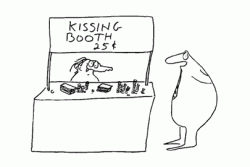 Er, no offense, Miss Winthrop, but have you ever considered writing a book on salesmanship?