/// Daily Quote
"Education is an ornament in prosperity and a refuge in adversity."
-- Aristotle

Selling Power Magazine Article
Can-Do Attitude

Subscribe Now
Focus on what it takes to succeed, not on why success is so difficult.
Focus, not on the obstacle, but on action needed to overcome the obstacle.
Focus on positive words – "benefit," "beauty," "profit" – not on negative words, such as "mistake," "wrong," etc.
Focus on the reward that will be yours when you succeed.
– Ray Dreyfack

Today's blog post is by Christopher Cabrera, CEO of Xactly Corporation, the industry leader in sales compensation automation. If your company hasn't been making its numbers and your employees seem disengaged, it's time to examine how to incent them uniquely and appropriately. A big part of building a successful sales team is building a comp plan to suit …
READ THIS BLOG
>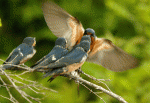 /// Upcoming Event
Sales 2.0 Conference
Monday, March 10
8:00 am
More Info
>