Selling Power Magazine Article
Can-Do Attitude
Ray Dreyfack

Subscribe Now
Focus on what it takes to succeed, not on why success is so difficult.
Focus, not on the obstacle, but on action needed to overcome the obstacle.
Focus on positive words – "benefit," "beauty," "profit" – not on negative words, such as "mistake," "wrong," etc.
Focus on the reward that will be yours when you succeed.
Webinar
The End of Sales as We Know It


Tuesday, August 5
1 pm ET / 10 am PT


Register Now
Upcoming Event
Sales 2.0 Conference


September 18, 2014


More Info
Daily Cartoon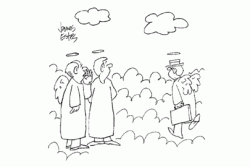 I understand he was in sales for 50 years...
Somebody really ought to tell him he can stop now.