Selling Power Magazine Article
Can-Do Attitude
Ray Dreyfack


Focus, not on the obstacle, but on action needed to overcome the obstacle.

Focus on positive words – "benefit," "beauty," "profit" – not on negative words, such as "mistake," "wrong," etc.

Focus on the reward that will be yours when you succeed.

Webinar
Five Key Steps for Building a Top Sales Team in 2016


Wednesday, December 16
11 am PT / 2 pm ET


Register Now
Daily Cartoon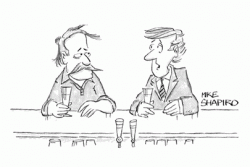 I knew it wouldn't be a good day when I saw
I was on the cover of You're Fired magazine.