Selling Power Magazine Article
Can-Do Attitude
Ray Dreyfack

Subscribe Now
Focus on what it takes to succeed, not on why success is so difficult.
Focus, not on the obstacle, but on action needed to overcome the obstacle.
Focus on positive words – "benefit," "beauty," "profit" – not on negative words, such as "mistake," "wrong," etc.
Focus on the reward that will be yours when you succeed.
Webinar
It's OK to be Selfish - How to Enable Reps to Succeed


Tuesday, March 18
2 pm ET / 11 am PT


Register Now
Upcoming Event
Workshop: Using Insights to Provide Value to Customers & Win More Deals


May 7, 2014


More Info
Daily Cartoon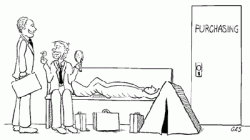 Do we have to wait long?