Selling Power Magazine Article
Can-Do Attitude
Ray Dreyfack


Focus, not on the obstacle, but on action needed to overcome the obstacle.

Focus on positive words – "benefit," "beauty," "profit" – not on negative words, such as "mistake," "wrong," etc.

Focus on the reward that will be yours when you succeed.

Webinar
How to Unclog Your Sales Pipeline


Wednesday, July 15
11 am PT / 2 pm ET


Register Now
Daily Cartoon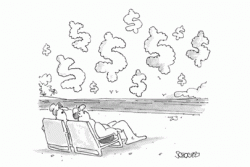 Now just sit back and relax and forget about business.