Selling Power Magazine Article
Can-Do Attitude
Ray Dreyfack


Focus, not on the obstacle, but on action needed to overcome the obstacle.

Focus on positive words – "benefit," "beauty," "profit" – not on negative words, such as "mistake," "wrong," etc.

Focus on the reward that will be yours when you succeed.

Free Webinar
Five Executive Decision-Making Styles You Can't Afford to Ignore


Tuesday, November 1
2:00 pm ET


REGISTER NOW >
Upcoming Event
Sales 2.0 Conference


Monday, November 14


More Info
Daily Cartoon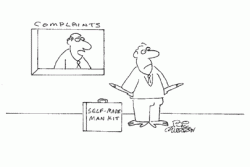 You didn't read the instructions - did you?