Selling Power Magazine Article
Ask Your Manager for Help
Malcolm Fleschner

2. Do your research. Make sure you know all ins and outs.
3. Be able to clearly articulate your question and concerns.
4. Know your goal – and the roadblocks that are in your way.

Upcoming Event
Sales 2.0 Conference


Monday, November 14


More Info
Daily Cartoon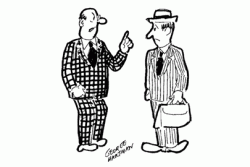 Yes, I got an order for you, Hawkwell - get out!