Selling Power Magazine Article
Ask Your Manager for Help
Malcolm Fleschner

2. Do your research. Make sure you know all ins and outs.
3. Be able to clearly articulate your question and concerns.
4. Know your goal – and the roadblocks that are in your way.

Webinar
Sales Force Effectiveness Initiatives - Impact Worth the Investment


Tuesday, August 25
10 am PT / 1 pm ET


Register Now
Daily Cartoon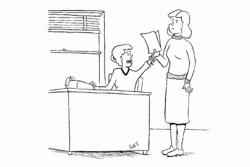 I counted 23 federal, state and local taxes we pay, and that's called FREE enterprise?